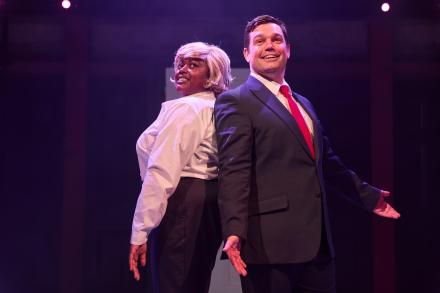 Harry Hill and Steve Brown have previous when it comes to penning unusual musicals. They were responsible for the X Factor spoof I Can't Sing. There was nothing wrong with the production but it maybe over-ambitiously had to fill the London Palladium every night. So sensibly they've gone back to basics and are premiering this new satirical outing - the clue is in the title – at the 200-seater Park Theatre.
And, boy, is it fun. I had misgivings about how they were going to make the New Labour leader into a comic figure given that he is best remembered by many for taking the UK into the Iraq war, but Hill and Brown successfully find the balance between being as stupid as a panto and as seriously poiltical as Brecht or Dario Fo.
Charlie Baker plays Tony from cradle to deathbed. As people of a certain age will know, Blair initially wanted to be a rock star - preferably "Mick Jaggers" (sic) – before he opted for Prime Minister instead. There's a nice moment of hinting at his naked ambition when he grabs the best bunk bed, but promises fellow Oxford student (cheating with the truth/timeline/reality) Gordon Brown that he can have it at a later date...
The action, briskly directed by Peter Rowe, takes us through the bullet points of his early life from getting his first guitar to marrying Cherie, before the second half wheels out both the big guns and the big, but darker, laughs. There's Saddam Hussein waggling a cigar like Groucho Marx, Osama Bin Laden doing a song and dance routine about killing the infidels. 
At times the tone veers ridiculously towards the daft and cartoonish – Alistair Campbell in kilt and ginger wig even though he's as Sottish as Rod Stewart – but then Hill has never been one to shy away from a childish gag, which is probably one of the reasons why we love him. At least he didn't say "Who is better, Tony Blair or Gordon Brown? There's only one way to find out..." before a brief wresting bout between Blair and Brown.
Charlie Baker plays Blair brilliantly with a mix of beatific smirk and Jack Black swagger. Physically I thought he actually looks more like Gordon Brown, but the toothy smile conjures up the former PM well. The rest of the cast have their moments too – Madison Swan (pictured with Baker) has a particularly strong stand-out moment as a flirtatious Princess Diana. And Martin Johnston delivers a rousing socialist anthem as Neil Kinnock.
The music is a bit of a stylistic mish mash. There are flashes of The Producers, echoes of Hamilton, even Cabaret at one point. But it is all good and very catchy. I frequently had to sit on my hands to stop myself from clapping along.
And, without giving too much away, it actually gets surprisingly political towards the end, suggesting, among other things, that maybe preferring a charismatic leader (Blair) over someone who appeared more considered (Brown) set the tone (no pun intended) that made Boris Johnson think he could run the country.
Tony [The Tony Blair Rock Opera] is at the Park Theatre until July 9. Buy tickets here.