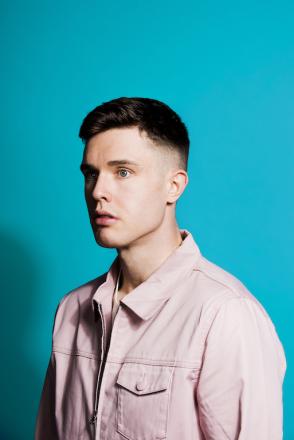 Taskmaster Champion of Champions will be broadcast on C4 on Thursday, June 23. It features previous winners Ed Gamble, Kerry Godliman, Richard Herring, Liza Tarbuck and Lou Sanders.
Read an interview with Ed Gamble below.
What was the reaction from fans to your series?
It was really good, I think the show has a really good fan base. They're lovely, but I don't think you could be angry and watch Taskmaster, to be honest. and I think that's all credit to the show.
Alex established the show with a very, very lovely atmosphere.
I mean, I don't like sports but I think this is sport for proper nerds. You can share your favourites, you can get excited when they achieve something.
I'm led to believe that in sport people don't tend to laugh when things go wrong, so in a way this is better than sport.
There's nothing more fun than really digging down into the minutiae of something ridiculous and I think that's what people enjoy doing – chatting over the scoring. The whole thing's ridiculous but that's fun to get serious about.
How does Greg's head compare to an FA Cup trophy?
Greg's head is the ultimate thing to win. I'm very, very happy to have one. Some people have said the show is not about winning but I think they're approaching it all wrong.
You've got to want to win, you've got to throw yourself into it otherwise you're not going to be your best self.
Where do you keep your trophy?
It sits directly in line of sight in my zoom calls, at the back of my office on a high cabinet. It's the first thing people see when they do a zoom with me on my Taskmaster podcast.
Having said all of that about winning, I think just being on the show is such a wonderful thing. I'm very very happy and proud that I was ever asked to do it.
Talk me through your outfit for Champion of Champions?
I thought for a long time about what I was going to wear. For the full series you want to wear something comfortable but this was only one day so I thought I'd go big.
It's a baby blue, 70s tuxedo with a ruffled shirt and bow tie. I wanted to go for the kind of Dumb and Dumber look or just like a proper horrible prom suit with the massive wide lapels and the silk stripe down the trousers.
I just thought that if any of the tasks went terribly, it would be hilarious for them to go wrong wearing that suit.
Did you do anything differently in Champion of Champions compared to the full series?
I really came out swinging, I argued every single tiny point. There were moments in the series where I thought, "I can probably take a backseat, I'm not going to say anything because I've got to come back and see these people tomorrow.'
But for Champion of Champions I went into the studio like I never had to see any of them ever again.
And how did that go down with Greg?
I think you can imagine how that went but it was a lot of fun to really go for it. And I think Greg respected me more for it.
There was a moment in a task to do with ducks where I think you nearly lost the plot ….
I completely lost my mind. I did what you shouldn't do on Taskmaster, which is to keep going with something even when it's clearly not working.
What I should have done was to try something new instead of pursuing the same thing for hours until its inevitable conclusion.
But once I'd lost a certain amount of time, I thought, "I've just got to keep going". Alex and the entire crew were laughing at me.
It was funny to start with, then we were all looking at our watches, and then it got funny again and then everyone got angry. Madder and madder and madder.
You made as if to storm off. Did you really think about just going home?
Yeah. Every 10 minutes I thought about that. At no point did I think, "It's alright because this will be good telly." None of it was the for the telly. The crew could have packed up and gone home and I'd have still been doing it.
How did you get on with the other contestants?
I knew beforehand that I liked all of them so I knew it would be a fun studio record.
Kerry's an absolute pitbull, she was sat next to me so she kept me in check. She's brilliant.
I'd never met Liza before and I was so excited to meet her. She totally lived up to my expectations.
I'm friends with Lou anyway so I knew what to expect and she was absolutely off the chain as per usual.
Richard unfortunately became the whipping boy immediately. Both me and Greg like to torment Richard quite a lot, so that was fun.
It feels to me as if people are using Alex more and more as a kind of prop these days. Would you agree?
Yeah, poor guy, we really went for it. To be fair, one of the tasks demanded it, so that's his fault.
And with the others, if they ask you to do something "elaborately" or whatever then you very quickly realise you need Alex, who is basically just a fleshy prop. He's asking for it, he's so easy to use and to humiliate.
And Greg loves it so you know it's a bit of a win if you do it.
Greg said recently he would never take part in Taskmaster, even for a charity sketch, because he'd be too good and he'd win everything. Do you agree that he'd be great?
I mean, I think we all know that the reason Greg won't do it is because he knows that if there was a physical task, he'd have a heart attack and explode.
Would Alex be any good?
He writes the tasks, obviously, so they're all in his voice and that's his sense of humour and the way he looks at the world. So I think he'd nail it straight away.
Although quite often we'd do a task and Alex would have had no idea it could be done like that. There are so many different ways of doing them all and it's up to people's interpretation.
But I do feel like Alex would be would be pretty amazing.
Do you do any of the Taskmaster games at home?
No, I think if there was any more Taskmaster in my life, my wife would leave me. She has to deal with it so much.
I do the podcast, so I watch the episodes in advance all at once because I'm so excited for a new series.
Then I watch them all week by week as they go out live, and I'm always interviewing people about Taskmaster.
Then quite often if I'm flicking around the channels and there's a repeat on, I'll watch it. There is absolutely no way she would put up with anything else Taskmaster based.
Congratulations on your wedding. There was a good Taskmaster contingent there.
It was fantastic. Thank you, we had a really good day. It was a lot of people's first day out like that in 18 months or two years so it went off. It was great.
It was lovely to have so many Taskmaster guys there.
Interview supplied by C4