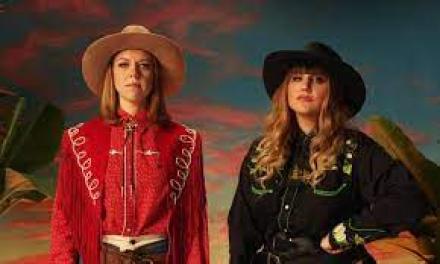 It's not often that I watch a sketch show boxed set on iPlayer and immediately want to continue to the second episode, but it happened just now with Ellie and Natasia. Admittedly the episodes are a pocket-sized 15 minutes each, but the hit rate is phenomenally high. If you don't laugh at least six times during the opening show please get someone to check your pulse in case you have snuffed it.
Comedy fans should be familiar with Ellie White and Natasia Demetriou's work. As well as putting out a one-off sketch show a while back they are both TV regulars, most notably in Stath Let's Flats, although I also have a soft spot for Ellie White's performance as a deadpan dimwit in the shortlived Vic and Bob sitcom House of Fools. She was also in the more mainstream Semi-Detached with Lee Mack and The Other One and played Princess Beatrice of York in C4's spoof royal comedy The Windsors. Natasia Demetriou has made a name for herself on both sides of the Atlantic in What We Do In The Shadows. Her brother Jamie (Stath himself) also pitches up in this, mainly fronting a sexy, sexy comedy rap about international pussy.
The humour here is off-the-wall but also accessible. There's a brilliant clownish pay-off to a succession of street fashion voxpops and lots of giggles along the way too. There are skilful send-ups inspired by TV shows and star cameos too. David Morrissey – how the heck did they bag him? – plays it straight as a dentist who has a flirty assistant (Demetriou) with a twist. And co-producer Harry Hill and director Simon Bird chip in to a cooking sketch where everyone gets a little too excited over salmon and griddled vegetables. Obviously it was no Vic and Bob's Masterchef, but it wasn't far off. 
In fact there is hardly a dud in the whole quarter of an hour. There are surreal links and snippets with the duo dolled up as bewigged aristocrats having difficulty checking their dating apps because their boobs are getting in the way. The chemistry is great, the pace keeps you watching and there are plenty of random surprises.
Sketch shows are notoriously hit and miss, the funny thing about this first episode is that the weakest skit is probably the very first, in which the duo play housewives showing us around their naff designer home. From there things just get better and better.
Ellie And Natasia, Tuesdays from June 21, BBC Three, 10pm. Watch it all on iPlayer now.