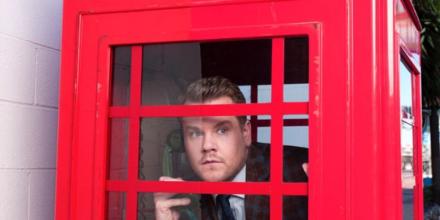 The Late Late Show with James Corden has announced an esteemed lineup of guests that will air during a special week of shows to be broadcast from Freemasons' Hall in London. Sky, the exclusive home to The Late Late Show with James Corden in the U.K., will broadcast the London-based episodes from Tuesday 28 June - Friday 1 July on Sky Comedy and streaming service NOW.
Guests appearing on the show include President Joe Biden, Vin Diesel, Jamie Dornan Billie Eilish, Lizzo, Ed Sheeran, John Boyega, David Harbour, Alanis Morissette, Sam Smith and Tessa Thompson. James Corden immerses himself into the heart of American politics in his most prestigious "Take a Break" segment yet when he fills in as the assistant to President of the United States Joe Biden, among other important duties.
Additionally, three-time Grammy Award-winning superstar Lizzo will buckle up for an all new Carpool Karaoke.
The Late Late Show's upcoming London visit marks the fourth time the series will film from the U.K. and the first time from Freemasons' Hall. The show has not filmed in London since 2019 due to the COVID-19 pandemic.
Each weeknight, James Corden invites the audience to join in on the fun as the Emmy Award-winning The Late Late Show with James Corden features a mix of celebrity guests, musical acts, games and sketches. The show holds the YouTube record for the most-watched late night clip with "Adele Carpool Karaoke," which has 255 million views. The show is produced by CBS Studios and Fulwell 73 and distributed by Paramount Global Content Distribution.