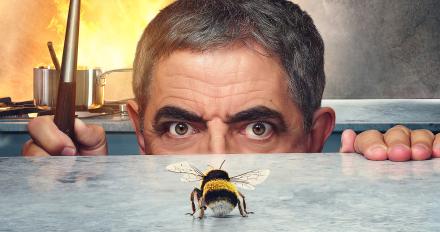 I hesitated about reviewing Man Vs Bee. While I grew up loving Rowan Atkinson I'm grown up now and had decided his recent work was on the childish side. But as there has been something of a buzz about Man Vs Bee I thought I'd better take a look. Glad I did. It's excellent. And not just for kids.
The set up is fiendishly simple. Atkinson is housesitting for a posh couple in their fancy gadget-filled home. And, of course, you know that things are going to go horribly wrong. If you can't guess, the fact that Atkinson's character Trevor is up in court in the very first scene seems to confirm your expectations.
Needless to say the moment the front door is closed and the car eases out of the sweeping gravel drive things are smashed and burnt and general havoc ensues. Mainly, but not exclusively, because of a pesky bee that seems to have a grudge against Trevor.
Anyone who is familiar with Atkinson will recognise certain things*. The fancy cars that Atkinson adores in real life. The echoes of French physical comedian Jacques Tati who Atkinson loves. Check out his later film Playtime. The destruction of a priceless painting and a feeble attempt to repair it as in the Mr Bean movie (and, I think, also in an older TV version).
Sometimes you can predict what is going to happen but it often happens with a twist and even when it doesn't and you are screaming at the screen for bumbling Trevor to avoid disaster, Atkinson's performance is absolutely timed to perfection – particularly impressive when you think that sometimes he was presumably acting opposite a CGI insect.
The director is David Kerr who has worked on a number of Inside No 9 episodes and there are whiffs here of the early silent episode, A Quiet Night In – the fancy modernist house, the visual rather than verbal gags, the sense of impending horror – which Kerr directed. He certainly knows how to ratchet up the tension.
Each episode, co-written by Will Davies, is short, which is canny. When one ends you'll want to go straight to see what goes painfully pear-shaped in the next one. Maybe next time they should call in a Swat team. 
All episodes streaming on Netflix now.
*Having written an unofficial biography of Rowan Atkinson i also happen to know that he went to a school called St Bees. 
Picture: Netflix