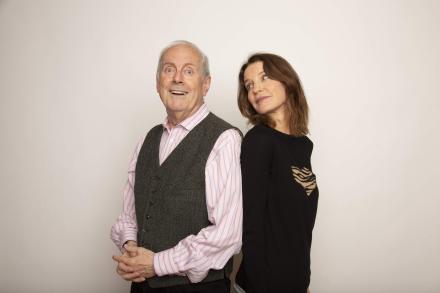 Following their debut tour, the award-winning podcast Something Rhymes with Purple will once again take to the stage for a live podcast experience like no other – this time hosting a special monthly residency at London's Fortune Theatre, as well as a one-off date in Susie's hometown of Oxford.
Something Rhymes with Purple on Stage captures the essence of what makes the podcast so special and channels this to create the live adaptation. Expect theatrical antics from the show's affable hosts as they bring their infectious love of words to the stage with all the trademark repartee and wordplay of the podcast – including segments such as 'Susie's Trio', Gyles' poetry, the bizarre origins of sayings, lots of myth busting and a deep dive into our language and expressions.
Each date will focus on a different theme within the world of words ensuring that no two shows will be the same, with shows also being recorded to make up special live episodes of the podcast.
"Something Rhymes with Purple is really all about the Purple People, our loyal listeners, so I'm thrilled Gyles and I will have the chance to meet some of them again in this tour", says Susie Dent. "We can expect silly jumpers, name-dropping, wordy wonders and etymological adventures - a real dose of Purple fun. I can't wait." 
The monthly residency at the intimate Fortune Theatre will offer fans the unique opportunity to get up close and personal with the podcast's beloved hosts, with shows on Sunday 25th September 2022, Sunday 16th October, Sunday 20th November, Sunday 18th December, Sunday 15th January and finally on Sunday 19th February 2023. The tour will also stop off at Oxford Playhouse on Sunday 9th October 2022.
"Our listeners call themselves the Purple People and we really do think of them as proper friends and family", adds Gyles Brandreth. "So these live shows are going to be like big family reunions!"
Since its launch in 2019, Something Rhymes with Purple, winner of the Gold Award for Best Entertainment Podcast at the British Podcast Awards 2020, has quickly become one of the nation's most-cherished podcasts. The podcast combines the infectious personas of Susie Dent, the star of Countdown's dictionary corner and author and broadcaster, Gyles Brandreth, with an educational streak that sees the pair discussing everything from the history of swear words to the etymology of archaeology.
Don't miss the opportunity to test your lexicographical knowledge and chat all things etymology with two of the wittiest & finest wordsmiths.
Tickets for Something Rhymes with Purple on Stage are on sale now. For more information and tickets, head to SomethingRhymesWithPurple.com