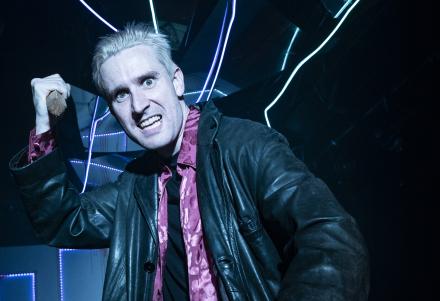 In an increasingly popular genre which combines comedy, improvisation and fan fiction 'Buffy Revamped' is a one man celebration of a 90s television sensation.
Performer and writer Brendan Murphy packs in references to all 144 episodes of 'Buffy the Vampire Slayer' in a show which is a must for all lovers of nostalgic teen horror.
As dedicated fan Spike, Murphy delivers a fast paced tribute to the vampire hunters of Sunnydale High - with jokes, songs and scores of pop culture nods to delight devoted fans.
He previously had a hit with 'Friend: The One With Gunther', a tribute to the much neglected character of Gunther, the weird cafe guy in 'Friends', which won the award for Best Play in the World Wide Comedy Awards.
Murphy is an experienced improviser and a member of BBC Radio One's BattleActs! who has written and performed several solo comedy shows.
He was nominated for the Spotlight Prize and has toured the United States and Canada with the Olivier-Award nominated Potted Potter.
Buffy Revamped: Pleasance – Cromdale Theatre @ EICC (Venue 150), 4th to 20th & 27th to 29th August 2022 (not 10th, 17th), 7.30pm (8.40pm). Tickets and info here.
What is the last thing you do before you go onstage (apart from check your flies and/or check your knickers aren't sticking out of your skirt and check for spinach between your teeth)
I give my body a full pat down, paradiddle slaps from my feet up to face. Then do a little vocal siren, (3 years acting training right there - BA Hons, no big deal), and finally I turn to a mirror, look myself square in the face and say "All right, buddy… SHOWTIME!"*
*I'm pretty sure I got this from Bob Odenkirk in 'Better Call Saul', who himself stole it off some fictional lawyer on a fictional TV show, and now it's become part of my mental security blanket in a kind of twisted bad-lawyer-prepping-for-a-case-against-all-odds inception.
What irritates you?  
Mid-show talkers. If you're gonna heckle, heckle! At least I can do something with that. But if I'm in the middle of a show and you have the impulse to say something that's just popped into your head to the person sitting next to you… WRITE IT DOWN, MATE. Or, if it's not the cure for cancer/the answer to some ancient long-pondered riddle/a piece of crucial information that could have world-changing implications? You can probably just save it til after the show, eh?
What is the most dangerous thing you have ever done?
I was in a car crash a couple weeks ago. Ruined my favourite t-shirt. Would not recommend.
What is the most stupid thing you have ever done? 
I was on 'Get Your Own Back with Dave Benson Phillips' a couple years ago. Ruined my favourite t-shirt. Would not recommend.
What has surprised you the most during your career in comedy?
Snakes in a can.
Brendan Murphy: Buffy: Revamped Interview continues here.
Brendan Murphy: Buffy: Revamped Picture: Steve Ullathorne