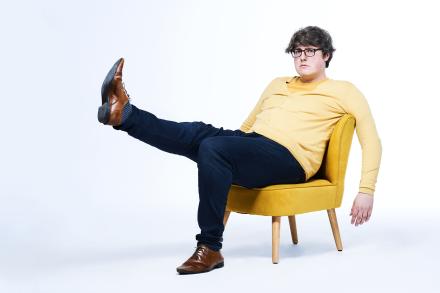 Glenn Moore is one of those comics who cram in so many gags per minute you walk out of his Fringe shows giddy with laughter.
Continuing his running joke of using his name as part of his show title, his latest work is Glenn Moore: Will You Still Need Me Will You Still Feed Me, Glenn I'm Sixty Moore.
Nominated for an Edinburgh Comedy Award in 2018, Moore is well respected as one of the finest and most prolific joke writers on the circuit. His writing credits include 'The Mash Report' and 'Russell Howard's Good News" and his joyful wit has earned him a huge following on Twitter.
Moore has always appeared to be something of an old soul, favouring sports jackets, ties and cardigans on stage. In his latest Fringe outing he's promising to lighten up and not push himself so hard. He's also promising to reveal all about the time he did work experience in a morgue.
Glenn Moore: Will You Still Need Me Will You Still Feed Me, Glenn I'm Sixty Moore, Pleasance Courtyard, Aug 3 -28, 4.05pm. Tickets here.
Read more Edinburgh Fringe interviews here.
What is the last thing you do before you go onstage (apart from check your flies and/or check your knickers aren't sticking out of your skirt and check for spinach between your teeth)

I stare at the back of my hand to make sure I can definitely read what I've written there, and not be screwed over 10 minutes later when I'm trying to work out what I meant by 'dog facepaint'. I envy comedians with more bombastic prep; anyone who does a golf swing, or mimes a free kick, or shadow boxes. I want to do that. I also secretly hope there are sportspeople who do the equivalent, and that somewhere in Las Vegas is Tyson Fury in his locker room, miming gripping a mic and saying 'not screaming like his passengers'.

What irritates you?

Silica gel packets. I can't get my head around why they turn up in the places they do. Lateral flows and jeans, what could the connection possibly be? Why are they in beef jerky and Nintendos? Why are they telling me I can't eat them? Why were they worried I would eat something I found in an LFT box?

What is the most dangerous thing you have ever done?
From a professional perspective, this: my former job as a newsreader required me to have a Journalism masters. My dissertation ended up being about the economic impact of the Edinburgh Fringe (me already needing to be at the festival that year to compete in the So You Think You're Funny? 2012 final was purely coincidental), so involved me interviewing as many comedians as I could. When I got back to uni, I found that all my audio recordings were corrupted, so myself and a friend spent a couple of days practicing and just…impersonated all of the acts I'd interviewed. Nobody marking the dissertation picked up on it but I've kept silent about this for years, terrified there'd be horrible consequences. At the very least I would have had my degree rescinded and lost my former job I imagine? Anyway, somewhere out there is a recording of me doing a cracking Henning Wehn.
What is the most stupid thing you have ever done?

I had a gig at a school in north-west London, and was running late enough that I risked having to awkwardly make my way through the audience if I went in through the front entrance. I tried to find the back entrance of the building in complete darkness, and was walking through quite muddy grass until I spotted a nice, clean tarmac road that went around the school. I confidently leapt from the grassy bank down into what turned out not to be a road but the thickest, muddiest river. What kind of school has a fucking moat? I had to go onstage minutes later in grey jeans that were fully caked in mud from the knees down (picture below for your reference).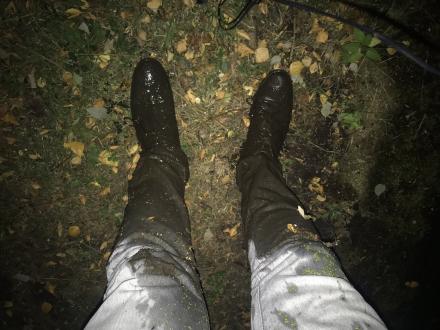 What has surprised you the most during your career in comedy?

That it's not true that at the Edinburgh Fringe you can perform whatever the hell you want and that at comedy clubs you've got to do your most mainstream stuff. Saturday night club audiences are more open to alternative stuff than you might imagine, and Edinburgh Fringe audiences are definitely not up for everything.
Glenn Moore interview continues here
Glenn Moore picture by Natasha Pszenicki