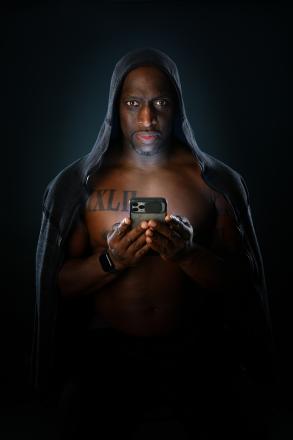 Raised in a household of women Emmanuel Sonubi moved on to one of the toughest jobs in London - as a nightclub bouncer.
The London comic also faced culture shock when he and his siblings travelled to Nigeria every year to stay with their extended family.
'Emancipated' is all about how Sonubi found his own distinct voice as a comic and learned how to free himself from the expectations of the people around him.
Sonubi has become a favourite on the UK and European festival circuit, performing at Bestival, Glastonbury, Altitude and The International Comedy Festival in Rotterdam.
He draws on his varied experiences, including life as the father of two children of his own, to talk about the kind of world he would like to see. You can also expect some revelations about celebrities behaving badly, gleaned from his time as a security guard behind the velvet rope at some of the swankiest parties in London.
Emmanuel Sonubi: Emancipated, Underbelly Bristo Square, August 3 - 29. Tickets here.

What is the last thing you do before you go onstage (apart from check your flies and/or check your knickers aren't sticking out of your skirt and check for spinach between your teeth)
The last thing I do is check the fly on my trousers as before every show, I go to the toilet at least 5 times. No matter the show, big, small, virtual, I still and probably will always get so nervous. I always try and make the set I'm about to do about the room or situation I'm in. So, most of the time, the set I have in my head on the way to the gig is not always the set I perform. The nerves come from wondering if the set is going to work. The funny thing is the nerves don't stop until about 10 minutes into the set.
What irritates you?  
People that wear red and pink together, for some reason these two colours drive me crazy. When I'm driving and I stop at a zebra crossing, when they wave 'thank you' to me makes me want to scream. People that use exaggerated literals to describe situations, "there was literally a million people in the queue" … NO THERE WAS NOT, WAS THERE SHARON!
What is the most dangerous thing you have ever done?
I was a bouncer for over a decade. I couldn't list just the one thing. There have been countless times I've been in situations that at the time you'd think nothing of, but afterwards you'd be like "probably shouldn't have chased that guy with the knife" or "maybe grabbing the gun wasn't the safest move". I've worked in some dangerous parts of London that over time, we just became desensitised to and was just considered 'normal'. This is one of the reasons I had to stop.
What is the most stupid thing you have ever done? 
It's hard to pick one. We were idiots as young men growing up and would do stupid stuff. On a holiday back in the early 2000's, a group of friends and I were having a conversation about how beer is made. We discussed that as the ingredients in beer were the same as bread, that you could live off beer. So, we then decide to test that theory and only drink beer. We lasted three days with no food and only beer until one of our friends nearly drowned.
What has surprised you the most during your career in comedy?
That I still after all this time get nervous. I performed in other areas of entertainment before comedy and after a while, it just felt like work and there would be nerves. With comedy, I still feel the same nerves now that I felt on my first gig.
Interview continues here
Emmanuel Sonubi Picture by Steve Ullathorne