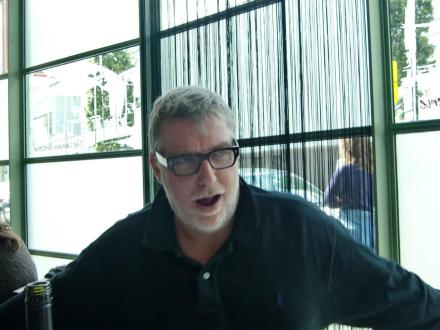 The David Johnson Emerging Talent Award aims to celebrate the life of maverick producer David Johnson who died in 2020. The cash prize of £11000 – £1000 more than the Dave Edinburgh Comedy Award for Best Show, will be presented to a performer/show on 28th August at a mixed bill comedy show at 6pm at the Gordon Aikman Theatre.
David Johnson (DJ – pictured) was a fixture on the Fringe for over 30 years. DJ's 'fringe finds' included Graham Norton, Puppetry of the Penis, and bars that were still open at breakfast time. He produced scores of shows on (and off) the Fringe including The Rubberbandits, Sue Perkins, Alfie Brown, Fascinating Aida, The Reduced Shakespeare Company, Malcolm McLaren, Stewart Lee, Alexei Sayle, Christeene, Kim Noble, Sandi Toksvig, Mark Almond, Mark Ravenhill and many others. He was a Trustee of the Pleasance Theatre Trust and an Associate Artist at Soho Theatre but he was mostly known for his raucous laughter, his generosity of wallet and his unnerving ability to spot an unexpected hit. His flair for commercial theatre was matched by - and often combined with - his fervent support for new and emerging artists. The award will be made that that spirit. 
A team of scouts lead by Helen Hawkins (arts and culture journalist) will recommend potential recipients during the first 3 weeks of the Edinburgh Festival Fringe. A winner will be selected during the last week of the festival and the inaugural DJ ETA presentation will take place on 28th August. You are warmly invited to join us for this anti-announcement – the line-up for this show will also, naturally, reflect DJ's taste for the unusual and the wonderful. But you will have to buy a ticket as proceeds from the event will be ploughed back into the DJ ETA fund!
The inaugural DAVID JOHNSON EMERGING TALENT AWARD event - Fringe comedy and cabaret at the highbrow/lowbrow interface! Line-up will include popular fringe performers including comedian Stewart Lee and cabaret queen Dillie Keane, very special guests plus the brightest and the best of emerging Fringe talent!       
THE DAVID JOHNSON EMERGING TALENT AWARD
VENUE: Assembly George Square, Gordon Aikman Theatre
DATES: 28th Aug
TIME: 18:00 (60 mins)
TICKETS: £16.50 (£15.50) plus booking fees
BOOKING: 0131 623 3030, www.assemblyfestival.com