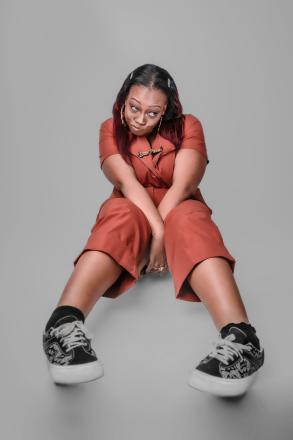 What do your parents/children (delete as applicable) think of your job?  
I've always enjoyed performing but just never talking so when I started comedy my parents were kinda shocked that I was talking in front of strangers. But they didn't really understand comedy. When I ended up in the BBC New Comedy Final in 2017, my mum called me up and went "We listened to it. It was very good. But you said the same jokes." It was like my mum suddenly became my agent. My dad is secretly proud of me but he will never show it as he doesn't want me to get a big head.       
What's the worst thing about being a comedian?
Oh the silence! When the audience is not on your side it's not a great show for everyone. It makes me want to hide in a little hole. I am also not that keen on travelling. Don't get me wrong I love going to other cities and even countries to perform but I really wish I had a private plane to take me everywhere. Basically I need to marry a rapper to make it happen. 
I think you are very good at what you do (that's why I'm asking these questions). What do you think of you?
I would agree with you. No, there are days where I am in my element that I am like "I'm that bitch" "this is my house" and the audience are just welcomed to my party. However, but there are some days where I overthink myself, and question whether I am actually funny. I genuinely have days where I do not understand why a joke is a joke – and not just my jokes. Jokes in generally. It's like the ultimate question – why is something funny? 
How much do you earn and how much would you like to earn?
Errrr can you ask me that question? I earn enough that I can afford maximum two Deliveroos per week if I wanted to, but I would like to earn enough where I can afford a property in each corner of London. Actually maybe not West London. There's not much happening there. 
How important is luck in terms of career success – have you had lucky breaks?
I think maybe it's not luck – it's more of right place, right time. But I think we make our own luck and hopefully my luck is not running out. 
Alan Davies has said that comedians fall into two categories - golfers and self-harmers. The former just get on with life, the latter are tortured artists. Which are you – or do you think you fit into third category?
Can I be a self harming golfer? I think my Gemini side really comes out at times when one day "I'm like you know what let's just moved on. I've learned from experience" and the next day I could be crying on the floor. I try and live my best life but the world is f**ked and my anxiety can get a lot.
Who is your favourite person ever and why – not including family or friends or other comedians?
Shirley-Jane Armitage. I'm cheating a little but she is technically one of my bosses. She is the loveliest person in the world and was the one who encouraged me to do comedy. She runs The Cavendish Arms in Stockwell and I know open mic nights like Comedy Virgins get a lot of stick on the circuit but that pub is my 2nd home. It made me confident to talk to people, it gave me the kills to change a beer barrel, it gave me the opportunity to be accepted for who I was and allowed me to realise I can just be myself. I have a tattoo dedicated to her and the pub and without that place I honestly do not know who I would be. I've been there over a decade and she actually refuses to take me off payroll despite the fact I don't officially work there anymore. 
Do you keep your drawers tidy and if not why not? (please think long and hard about this question, it's to settle an argument with my girlfriend. The future of our relationship could depend on your response).
Ok I'm not going to lie.. I am slightly messy, but it's organised mess. Like I know exactly where everything is and why things are in certain drawers. I am slightly OCD with certain things like the type of earrings I wear, and the types of pens I use to write jokes compared to the one I use for my comedy diary. But I have like a big spring clean like four times a year. 
Sikisa: Life of the Party, Pleasance Courtyard, August 4 - 28, 20.25. Tickets here.
Sponsored post
Pages