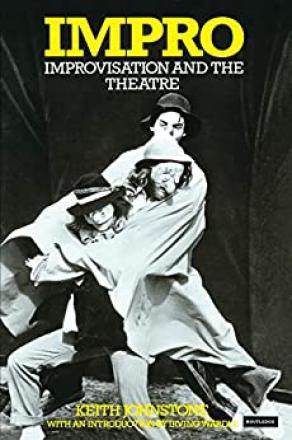 The hugely influential improvisation pioneer Keith Johnstone has died. He was 90.
Johnstone's book Impro: Improvisation and the Theatre was essential reading for both comedians and actors who wanted to work on the art of performance. Johnstone pioneered the technique of "Yes, and" where a freestyle conversation would be given the space to open up rather than close down. The Comedy Store Players still use his techniques in their shows every week. Player Andy Smart tweeted: "Sad to hear of the passing of Keith Johnstone. A giant of a man, who wrote THE book on improvisation. We still play his games every Sunday at the Comedy Store. I can't stress how much I owe him."
A message was posted on Johnstone's website: "We are deeply saddened to announce the passing of Donald Keith Johnstone, age 90. Keith, as he was known since childhood, was an internationally recognized pioneer of improvisation theatre, co-founder of The Loose Moose Theatre Company, creator of Theatresports, an important playwright, director, and most importantly, a beloved teacher. Keith passed away peacefully at Rockyview Hospital in Calgary, Canada, on Saturday, March 11, 2023. Per Keith's request, a festive "wake" will be held in his honor at a future date. When information is available, it will be posted on this website."
Tributes have come in from the worlds of both theatre and comedy.
The Showstoppers tweeted: "A message from Adam and Dylan: Keith Johnstone was a pioneer of improvisational theatre, inspiring us with his books and directly teaching many members of our company. He opened people's minds to what might be possible in the theatre if you unleash people's creativity. RIP Keith."
Spymonkey added: "Sad news from Calgary. Remembering the giant shoulders of #KeithJohnstone from which has leapt so much delight, invention and improbable laughter. His book 'Impro' and the trailblazing work he inspired in others, not least @improbable1 and Lifegame, has been a huge inspiration"
Samuel West echoed many artist's repsones when he tweeted: "RIP the great #KeithJohnstone. IMPRO is one of the four or five books I recommend to all actors."
Playwright Mark Ravenhill wrote: "In 1994 I took an introduction to playwriting course by sitting at my kitchen table for an hour a day and using Keith Johnstone's Impro book to give myself playwriting exercises. Two years later I was a produced playwright. Keith died on Saturday aged 90. He changed my life."
Hoopla Impro tweeted: "Very sorry to hear of the death of Keith Johnstone. He was a legendary impro teacher, writer and director and we were lucky enough to be taught by him and wouldn't be doing what we are doing without him. Lots of love to his friends and family and to everyone who worked with him."
The British-Canadian's involvement with the theatre began when George Devine and Tony Richardson, artistic directors of the Royal Court Theatre, commissioned a play from him in 1956. His improvisatory techniques and exercises evolved to foster spontaneity and narrative skills and were developed further in the actors' studio then in demonstrations to schools and colleges and ultimately in the founding of a company of performers, called The Theatre Machine.
Buy Impro: Improvisation and the Theatre here.