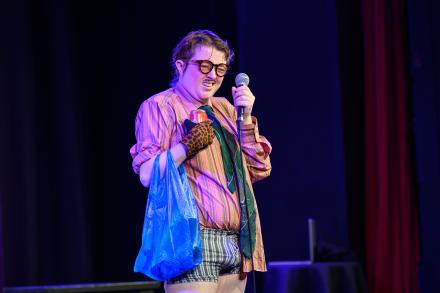 After the interval things got even weirder and more warped. First with Derek Mitchell, who played a twitchy rabbit breeder and a wigged out gun-toting summer camp leader. Mitchell was followed by Stepan Mysko von Schultze, who delivered an arch poem set in 1915 which was beautifully written but rather lacked enough laughs to be in the running for a prize.
We were on more familiar sketch terrain with Preppers, a double act featuring Stuart Laws, a comic and filmmaker who has had a number of viral clips in recent years, and Matt Sandstorm. They played a pair of survivalists and tried to sell the audience various levels of post-apocalyptic survival packages. It was funny and bonkers in equal measures and felt slightly rushed which added to the chaotic charm. It didn't get a placing but went down very well with a crowd that seemed to be made up of comedy fans, friends of the acts and confused passing tourists.
If the second half was a mix of the weird and the familiar Mancunian comedian Andrew Doherty had a foot in both camps with a clever self-referential set that tartly played around with expectations. This is wicked, knowing comedy that was both intelligent and engagingly strange. It bagged third place and Doherty is clearly a name to watch.
And finally, just as you thought things could not get any stranger, Ellie BW came on as a trouserless character called Howard to demonstrate the latest model of Fleshlight (if you don't know what a fleshlight is google it yourselves). Howard was by turns sleazy, sinister and hopelessly, haplessly hilarious. Needless to say this was exactly what the judges were looking for and Ellie BW, who is involved in the Pinata club night, was victorious. Luckily there were no more acts as the climax of Ellie BW's demonstration left a rather sticky residue onstage...
Picture of Ellie BW as Howard by Steve Ullathorne
Pages