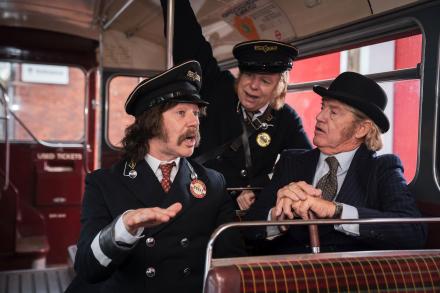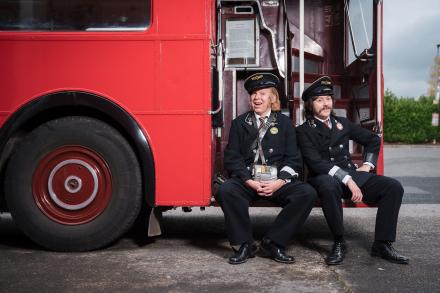 The fifth* instalment of the current eighth series of Inside No 9, Hold On Tight!, is probably the most eagerly anticipated episode in a while. Certainly for fans of a certain vintage. When pictures slipped out to trail the new series, the picture of Reece Shearsmith, Steve Pemberton and Confessions star Robin Askwith in front of an old style London bus immediately recalled the spirit of 1970s sitcom On The Buses, starring Reg Varney, Bob Grant and Stephen Lewis as depot inspector Blakey.
live update: looks like they've been very playful again, claiming this is a replacement episode - a game show with Lee Mack. Read more about what was actually going on here.
So is this episode a horrific send up of the classic sitcom? Fans of British movies from the era may know that the On The Buses movie was made by Hammer Films and was their biggest domestic earner of the 1970s – suck on that Dracula. Unfortunately I can't say if this episode is a commuter/Hammer homage mash up. Whereas critics have been given advance viewings of all the other episodes in this series – which is how reviews pop up online so quickly after broadcast, nobody can type that fast, for some reason not explained, we have not been allowed to see this episode upfront so will be getting our chils and spills along with you mere mortals.
Setting the action on a bus makes perfect sense and makes a change from a house - it's a number 9 bus of course. The one thing the acclaimed series has never done is an overtly political episode - maybe after they take their break they are planning after the ninth series they could do a one-off special about the Prime Minister and call it Inside No 10. Now that really would be a horror story. Though as it happens there has previously been at least one serious politcal series called Inside 10 Downing Street and in 2018 there was a radio series called Inside No 10 – not sure if Inside No 9 creators Reece Shearsmith and Steve Pemberton got any credit there.
So what happens in Hold On Tight!? Will enviously well-preserved Brian Jones lookalilke Robin Askwith flash his buttocks as he famously did in those saucy Confessions movies all those years ago? Will Reece Shearsmith's Clarke whip off his impressively luxuriant 1970s moustache? Will Steve Pemberton's Wolfie get his ticket machine in a terrifying twist? All we know is what the BBC has told us. That "Wolfie and Clarke love their bus - but perhaps not as much as the mysterious Mr Cole and his dolly-bird nieces. As Clarke would say, 'plenty of room up top!'"
Inside No 9, Hold On Tight!, Thursday, May 18, 10pm.Credit: BBC/James Stack
*fourth if you don't count the Christmas Special The Bones of St Nicholas, although you should.