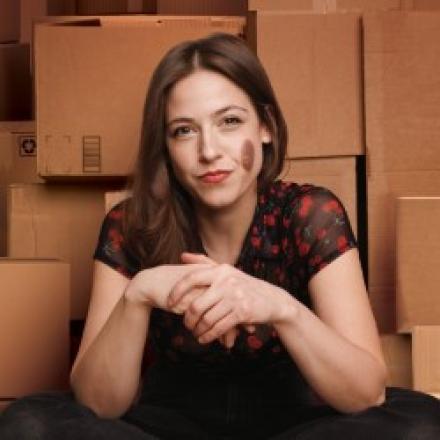 New York comedian Chloe Radcliffe calls her show Cheat "a one-woman show but a 29 man show". It's a canny description for an hour in her company in which she dissects and discusses the nature of infidelity and in particular, her own predilection for not sticking to one partner. Radcliffe is more of a serial monogamist than whatever the female equivalent is of a man who can't keep his dick in his pants, and this enthralling piece gives some insight into why she is the way she is. 
Maybe one clue is that, as she explains early on, she is well aware that she is more attractive now than she used to be, since she lost weight and found hair straighteners. This feels a little harsh and anti-feminist. Whatever happened to body positivity? But hey, if she feels like this that's her right. And, it turns out, she was a cheat before she was hot too. 
She quickly mentions the elephant in the room, well the elephant on her face. A large birthmark that she makes no attempt to hide. Talking about it relaxes the audience and they are comfortable enough to laugh as Radcliffe lists the various ways it has been described in the past and what it has been compared to.
But the meat of the monologue is her account of various relationships and how they have come and gone, if that's the right phrase. Some lasted longer than others, some, such as the hot Fedex man who delivered more than a package, were based on physical attraction, some were more cerebral. 
As she analyses herself onstage she doesn't necessarily come up with any definitive clear answers. Inevitably there is some chat about her childhood and her parents and what behavioural traits may have been handed down to her. She wonders if infidelity is like a drug you can be addicted to. 
Radcliffe is almost pathologically candid about her behaviour, not seeming to care if some might disapprove. Maybe she 'gets away' with her confessional because she is such a good storyteller. This is a well-crafted piece and she has you hanging on her every word. But Cheat is not just about the shock value of talking about something lots of people do but few talk about. It's also a funny show and a confident comedy calling card. Given that it's her Fringe debut, it'll be interesting to see what she comes up with next.
Until August 27. Tickets here.
Also at Angel Comedy in London on September 17. Ticket details here.
Read more reviews here.
four stars