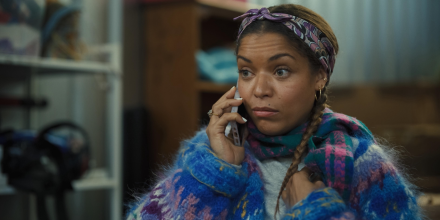 Making a comedy about insomnia is a risky business, particularly when it comes to asking reviewers to review it. The easy option would be to say that Still Up is so dull it's the perfect cure for not being able to get to sleep. The good news is that Still Up will probably keep you up all night because once you start watching it you will want to binge on it*.
Danny (Craig Roberts) and Lisa (Antonia Thomas) are friends, who also happen to both suffer from their inability to get to sleep at night. So a lot of the programme's early episodes revolve around them chatting to each other on the phone. In the first instalment Danny (who is also agoraphobic so can't go out) is famished and trying to get a pizza delivered that won't be devoured first by a lurking cat, Lisa is in a deserted all-night pharmacy trying to pick up some medicine.
There might have been a risk that this could turn into a post-Lockdown version of Staged, with just the two of them chatting rubbish as entertainment. But the dialogue – it is written by creators Steve Burge and Natalie Walter plus Bryce Hart, is sparky enough for that to be avoided – although they do often speak very fast as if they have a train to catch.
The chat frequently sets up helpful and entertaining flashbacks. We learn, for example, that Danny was once in a band where he used to play keyboards while wearing a candelabra on his head. Things came to a, erm, head, however, when he set the drummer on fire. Very funny, a bit Spinal Tap. Lisa, meanwhile, has the usual petty rivalries with other school mums. Very funny, a bit Motherland.
There is nice support too. Inbetweener Blake Harrison pops up as Lisa's dull partner 'Veggie' and Rich Fulcher, best known as Mighty Boosh's Bob Fossil, does another comic turn as a feline obsessive known simply as Cat Man.
Maybe there's a hint of a romantic outcome early on when Danny and Lisa get matched on one of Danny's dating Apps. But surely that's too obvious for an ending? Who do they think they are, Tom Hanks and Meg Ryan? You'll have to stick with the run to see what happens to the twosome over the sleepless nights as we discover more about their back story as well as their potential futures. Stick with it.
First three episodes available now on Apple TV+, future episodes released weekly on Fridays.
Picture: Apple TV+
*Actually Apple has thoughtfully thought of that by releasing episodes weekly so you wont be able to box set binge until it's all out.