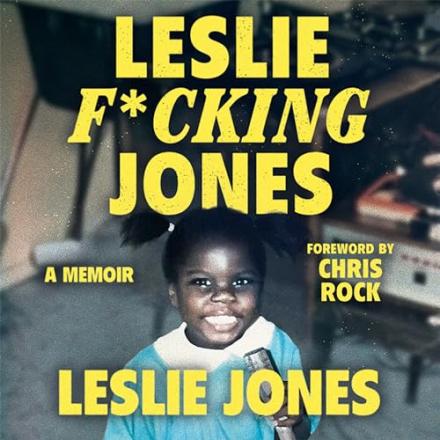 If ever there was someone who has pulled themselves up by their bootstraps it is Leslie F*cking Jones. Saturday Night Live alumni, film actress, basketball player, Christian, survivor of assault, college drop out, ghetto comedian, fighter – nobody is going to put Leslie Jones into a box, and if anyone tried all six foot of her would break the box and shred it. And probably do the one trying to box her up some serious damage too.
Leslie Jones is a formidable woman, in so many ways. Her memoir unpacks determination and trauma in her own distinct vernacular, mining humour from dark places and shining a light on her indefatigable resilience that kept her going against incredible odds. 
Jones is scrappy, she is a fighter – and the stories of her ghetto- and family-background are in turns spellbinding and heartbreaking, told with an honesty that is familiar and honed with the framework of storytelling from years spent performing. She is undeniably dangerous at times – born from her homelife and years as an aggressive basketball player. It comes from a survival and trauma necessity laid out in the first part of her story, contextualising the abrasive juxtaposition later on when her violent survival responses seem disproportionate. She is also brutally vulnerable. 
The good advice that sticks with her over the years, from her father, her coach, Jamie Foxx, Chris Rock, and others, work as pinpoints in her story, ultimately steering her to where she ends up. Many of the names she drops may not be familiar to non-US readers, but that doesn't interfere with the flow or engagement. 
At points mixing 'knowing' with a retrospectively wide-eyed arrogance about comedy, this became specifically jarring when she makes her first successful pass at the New York comedy scene and quotes her male comic counterparts as celebrating and supporting her with: "I got the only funny female comic". The US comedy scene is very much a boys' club that she describes.
It's a book of two halves, each distinct but without the other lacking of the heart or the reward both needs. Jones' journey is a fascinating one against the odds, pulling herself from a dangerous place with limited options by sheer determination and her sense of humour. She's steely, and her tale is more than just backstage shenanigans at SNL. 
Leslie F*cking Jones: A Memoir is released by Harper Collins on Thursday, 28 September 2023. Buy here.