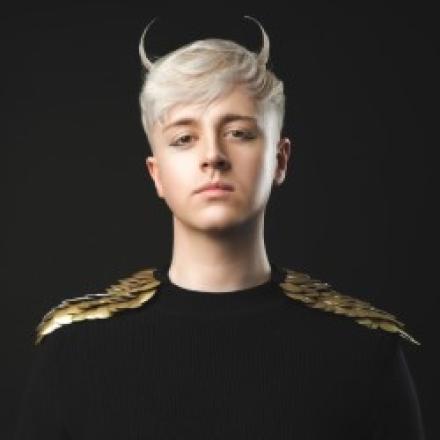 Fast-rising comedian and social media star Daniel Foxx is taking his acclaimed debut show Villain on tour. It's a show about growing up in the 1990s and 2000s, getting his revenge on school bullies and realising that the film characters you most identify with are the baddies.
Foxx, 29, has been described as 'utterly hilarious and effortlessly charismatic' by Rolling Stone Magazine and has built up a huge social media following thanks to his quickfire character sketches. He is currently developing one of his characters for television. He also creates plays, screenplays, and musical theatre. His project, Unfortunate: The Untold Story Of Ursula The Sea Witch, written with collaborators Robyn Grant and Tim Gilvin, is touring in 2023/2024
You made your Edinburgh Fringe solo debut this summer and featured in Dave's Joke of the Fringe Top Ten with: 'My grandma describes herself as being in her "twilight years" which I love because they're great films.' How long have you been doing stand-up?
I first dabbled with it when I was studying at university, around nine years ago. I think I did it for about a year and then stopped to pursue musical theatre writing, which is my other great love. But I properly threw myself into stand-up in a serious way (if there is such a thing) around the end of 2018. 
What is Villain about?
It's an academic treatise on how every villain is a raging homo. …And it's also an autobiographical show about growing up in the 1990s and 2000s. I'm nostalgic for it, but it wasn't the easiest time - we were still in the latter days of section 28, same-sex marriage had yet to be legalised, and 'gay' was the insult for everything at school. Gay equalled bad. And when I thought back on who the "bad" people were on TV back then, well they were always the campest men and butchest women you've ever seen.
Your show will particularly appeal to anyone who was a child in that era watching Harry Potter movies and Disney animations. It's been described as a love letter to famous villains.
That's exactly what it is. I used to find it really frustrating that the only time you saw a camp man was when he was twirling his moustache or whispering to a snake and plotting evil, but now I think it's quite iconic. They're very much the fun outcasts, wearing couture and doing their own thing. Personally I love plotting evil over a cocktail.
So your theory is that villains tend to be gay?
"Queer coded" is the academic term (get me).  Meaning it's not explicitly stated - you don't see Jafar swanning off to Agrabah Pride or whatever - but there he is, swanning about in a robe and a feather and working that eyeliner like nobody's business. This isn't a modern phenomenon, by the way: look at Bond villains with their cats, cocktails and architecturally progressive houses. Look at Satan, gossiping with women over a piece of fruit. 
Your solo show Villain combines stand-up and comic songs to great effect. You've also written the lyrics for the musical Unfortunate: Ursula The Sea Witch. Are you musically trained?
No. Well, I had a few piano lessons as a child from a lovely elderly lady with the most disgusting cat which would yawn on you and smell awful. But I mainly learnt to play by teaching myself Kate Bush songs from YouTube tutorials. You know, the standard pastimes of an 11 year old boy. 
The tour is going to lots of different places including New York..
Yes, Newcastle, New York, Reading - the classic trifecta. I'm very excited to take Villain to New York. I was really lucky to go earlier in the year to attend Instagram's Met Gala party and did a couple of gigs while I was there. Which is handy, because I now know there are some things I'll have to translate:  I do a bit about my grandma thinking the Q in 'LGBTQ' stood for Quorn - and they don't really know about Quorn over there. Or vicars. Or, indeed, Clare Balding - a vital reference for my art. 
interview continues here.