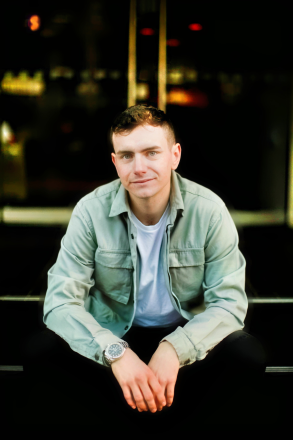 Hot on the heels of his sold out Edinburgh Festival Fringe 2023 run, Scottish comedian Connor Burns is on tour with his critically acclaimed show Vertigo. 
Vertigo is a punchline-packed show featuring relationships, submarines, and the inevitable family drama. Hilarious, relatable and a bit rude in places, Connor's quick wit entwined with his sharp material has seen him become one of Scotland's fastest rising comedy stars.
From his shocking suggestions for coping with the cost-of-living crisis if you have a big family, to his side-splitting fascination with accents and their effect when away from home, and his hilarious aversion to drinking with Millennials, Burns offers caustic observations on everything and anything, from the mundane to the meaning of life.
His modest stage presence combined with comic timing sees him effortlessly land punchline after punchline, all perfectly timed, as quips fly at the audience at lightning-fast frequency. Burns is fearless when it comes to close-to-the bone humour, and nothing and no one is spared. But his comedy is expertly composed and delicately pitched; meaning no matter how shocking the material, there is no punching down.
For Dates and Tickets visit: https://www.connor-burns.com
What is the last thing you do before you go onstage (apart from check your flies and/or check your knickers aren't sticking out of your skirt and check for spinach between your teeth) 
Double check my watch... It's become a sort of tic at this point I set it to vibrate 2 minutes before the end of my set. It's never not been set to that yet I manage to convince myself that it needs re-set multiple times before I go on.
What irritates you?   
When you let someone out of a junction in your car and they don't give a courtesy wave. It shows a breakdown of the very fibre of civilised society.
What is the most dangerous thing you have ever done? 
Driven home with my girlfriend through the night from the Isle of Skye, in a blizzard. It was so scary/stupid/traumatising that I don't think we've ever actually spoken about it since.
What is the most stupid thing you have ever done? 
I actually talk about it in the show... so without giving anything away it involves a dog that may or may not be hearing impaired.
What has surprised you the most during your career in comedy? 
How quickly you have access to people at the top... It's amazing, you can be at an open mic where someone might be doing their first set ever and then an arena comic will drop in to try new stuff. No other art form has that... Jay Z doesn't try out his new album at the local karaoke bar.
Connor Burns interview continues here