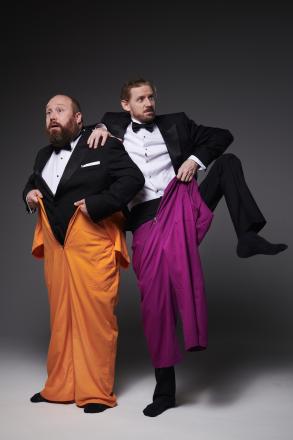 One of the country's most popular musical comedy double-acts, Jonny And The Baptists – like a non-related Bros, or a Simon And Garfunkel who don't hate each other – set out on the road in 2024 with a delicious double helping of their satirical, gleeful, anarchic gag-pop. Across a riotous two hours of entertainment, Jonny Donohue and Paddy Gervers (there aren't any actual Baptists) smash out a brand new hour and delve into their bulging back catalogue, and turn their attentions to a happier future for all of us. 
THE HAPPINESS INDEX
Five Prime Ministers ago, David Cameron started a 'happiness index' to measure how joyful the people of this nation are. Which is ironic, given what he then did. Anyway, Jonny & The Baptists have picked up the baton and they are now trying to find out what the hell they should do with it.
A new - personal and political - show about their desire, and the country's struggle, just to be happy.
This will be a night of rabble-rousing musical chaos from an act with few rivals in their field. And also hardly any credit for doing it. But they never, never mention that. 
TEN THANKLESS YEARS
Ten years. Multiple award nominations. Absolutely no wins. What a bunch of bullshit. 
The UK's best – but definitely not best-appreciated – funny musical duo wade through the greatest hits of a cult career that should have, but has not, brought them fame and fortune. With a five-star, sell-out Edinburgh Fringe run behind him, they've understandably decided to take this cash cow on the road. Of course, they're only getting half the money each, so it doesn't even really make sense from that point of view. Really, why do they bother throwing away their greatness?
JANUARY
Wednesday 17 Edinburgh Monkey Barrel https://www.monkeybarrelcomedy.com/ 
Thursday 25 Oxford Old Fire Station https://oldfirestation.org.uk/ 
Friday 26 Oxford Old Fire Station https://oldfirestation.org.uk/ 
Saturday 27 Oxford Old Fire Station https://oldfirestation.org.uk/ 
FEBRUARY
Thursday 8 London Artsdepot https://www.artsdepot.co.uk/ 
Friday 9 Maidenhead Norden Farm https://norden.farm/  
Wednesday 21 Eastleigh The Point https://thepointeastleigh.co.uk/ 
Thursday 22 Eastleigh The Point https://thepointeastleigh.co.uk/
MARCH
Saturday 2 Salford Lowry https://thelowry.com/    
Sunday 3 Salford Lowry https://thelowry.com/ 
Friday 22 Norwich Playhouse https://norwichtheatre.org/ 
Saturday 23 Norwich Playhouse https://norwichtheatre.org/
Wednesday 27 Brighton Dome https://brightondome.org/ 
APRIL
Saturday 27 Lancaster The Dukes https://dukeslancaster.org/ 
Sunday 28 Newcastle The Stand https://www.thestand.co.uk/whats-on/newcastle 
Monday 29 Glasgow The Stand https://www.thestand.co.uk/whats-on/glasgow 
Friday 30 Alnwick Playhouse https://alnwickplayhouse.co.uk/  
MAY
Saturday 4 Machynlleth Y Plas Main Hall https://machcomedyfest.co.uk/ 
Sunday 5 Machynlleth Ysgol Bro Hyddgen https://machcomedyfest.co.uk/
Sunday 12 Bristol Tobacco Factory https://tobaccofactory.com/ 
Wednesday 15 Plymouth The Drum https://theatreroyal.com/whats-on-in-the-drum/ 
Thursday 16 Plymouth The Drum https://theatreroyal.com/whats-on-in-the-drum/
Friday 17 Plymouth The Drum https://theatreroyal.com/whats-on-in-the-drum/
Saturday 18 Plymouth The Drum https://theatreroyal.com/whats-on-in-the-drum/ 
Friday 31 Chorley Chorley Theatre https://chorleytheatre.com/ 
JUNE
Thursday 1 Leeds Hyde Park Book Club https://www.hydeparkbookclub.co.uk/ 
Friday 2 York Theatre @41 https://www.41monkgate.co.uk/ 
Thursday 13 Bath Rondo https://rondotheatre.co.uk/ 
Friday 14 Bath Rondo https://rondotheatre.co.uk/ 
Saturday 15 Cambridge Junction https://www.junction.co.uk/ 
Sunday 16 Colchester Arts Centre https://colchesterartscentre.com/ 
Monday 17 Exeter Phoenix https://exeterphoenix.org.uk/ 
Picture: Matt Crockett