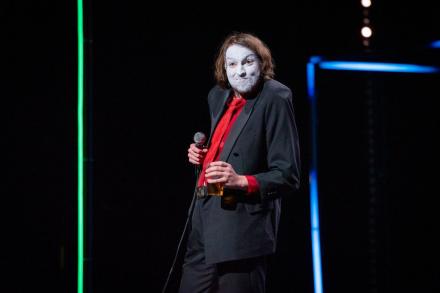 The winner of this year's BBC New Comedy Awards has been announced following the screening of the final on BBC One.
Anf the winner is Joe Kent-Walters, who performs as creeepy white-faced entertainer Frankie Monroe who runs a working men's club in Rotherham.
Phil McIntyre Scotland says: "Joe won the judges over with his utterly surreal character of Frankie Monroe, cos not only did he grab the entire audience's attention from the start, but he left them (and the judges) wanting more.  All three judges agreed, they would love to see more of Frankie and his club in Rotherham that's also a portal to Hell!"
Click here to read more about the other finalists.
Q+A with Joe Kent-Walters aka Frankie Monroe
How does it feel to be the winner of this year's BBC New Comedy Awards?
Absolutely surreal! It's still not set in properly yet but I'm on cloud nine! Having to keep it a secret for the week before broadcast was funny, felt like bake off! 
What was your favourite moment from performing in Glasgow?
Probably nicking a wallet, very cheeky! 
What inspired the creation of Frankie Monroe? What is your favourite thing about performing as Frankie?
Going to my local working men's club growing up, you meet a lot of Frankie Monroe's. Ghoulish old men who love to get one up on you. It's a great energy to bring to the stage and I love that you can simultaneously scare and delight audiences, really fun dynamic.
What would you say to anyone thinking about applying to next year's awards?
Absolutely just do it! What have you got to lose. If you do get through to the live heats just have loads of fun, they are really class gigs to do!
Watch the final on BBC iPlayer. 
Entries for the BBC New Comedian 2024 open in May, please check bbc.co.uk/newcomedyawards for more info.
Picture: BBC/Phil McIntyre Television/Michael Prince