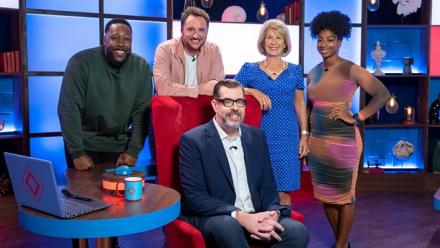 Jennie Bond, James Bye, Kadeena Cox and Aurie Styla test their general knowledge skills on this week's House of Games.
Styla is one of the current wave of black British comedians breaking through into the mainstream. While Mo Gilligan has gone stratospheric Styla is coming up fast too, alongside the likes of Babatunde Aleshe, who can often be seen on Celebrity Gogglebox with Gilligan and Axel Blake, winner of Britain's Got Talent.
Styla, from West London, is an award-winning stand-up, actor and writer. He has a strong presence and plenty of charisma. His Edinburgh show Green transferred to the prestigious Soho Theatre in London and is available to watch on YouTube.
He has appeared on 'Deep Fake Neighbour Wars' (ITVX), The Apprentice, You're Fired (BBC) 'Comedy Central Live', 'Jonathan Ross' Comedy Club' (ITV), 'Life's A Pitch' (Sky), 'Don't Hate The Playaz' (ITV), 'The Stand-Up Sketch Show' (ITV2), 'Mo Gilligan's Black British & Funny' (C4) and was a writer on the Bafta Award-winning season of 'The Lateish Show with Mo Gilligan.'
Even if you don't recognise his face you may recognise his voice from campaigns for Wagamama, Cinch, Fifa, Audible, BBC, C4, and more. He was the host of 'The Scene' on BBC Radio London, every Monday, and also regularly contributes to other radio format shows such as 'The Now Show' (Radio 4), 'NewsJack' (Radio 4), and BBC 1Xtra, as well as notching up numerous podcast appearances, including his own Respectfully… Podcast.
In House of Games this week Styla is up against royal correspondent and all-round TV regular Jennie Bond,  parasport athlete Kadeena Cox and James Bye, who has played the role of Martin Fowler in EastEnders since 2014.
Who is going to win? This week it could be a very close-run thing.
Richard Osman's Houae of Games, Monday, November 20 - Friday, November 24, 6pm, BBC Two.
Picture: BBC/Remarkable TV/Graeme Hunter