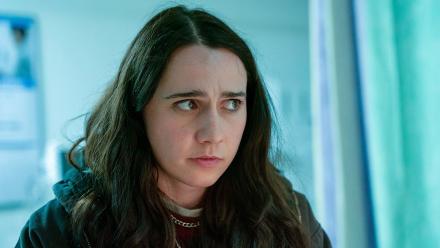 Dysfunctional family sitcom Such Brave Girls follows sisters Josie (Kat Sadler) and Billie (played by Kat's real-life sister, Lizzie Davidson) and their single mother Deb (Louise Brealey) navigating life armed with nothing but poor judgement and self-esteem exclusively tied to people who couldn't care less about them. They're vain, selfish, heavily in debt, pathologically desperate for affection and bursting with misplaced, terrifying love.
Read more about it below and read an interview with Louise Brealey here.
Such Brave Girls is available from Wednesday 22 November at 10pm on BBC Three and BBC iPlayer.
Kat, what can you tell us about Such Brave Girls?
Such Brave Girls is a family sitcom about three damaged narcissists who are desperate for love. It's three characters trying to navigate the world armed with nothing but poor judgement skills, and self-esteem that's exclusively tied to people that couldn't care less about them. It's a fictional show exploring trauma and dark subject matters that are deeply personal to myself and my sister which would normally be dealt with in a drama territory, and moving it into a comedy space because that's how we deal with our issues. But it's proudly a sitcom.
How would you best describe your character Josie?
Josie is someone who is desperately trying to work out who she is. She's trying to rebel and express herself whilst being held back by being a spineless, chronic people pleaser. She's a direct contrast to her sister Billie. When you have family trauma, or a parent that leaves, or both, I think you respond in different ways. Josie has turned her anger inwards, towards herself - constantly trying to run away and reinvent who she is. Whereas Billie is just angry at the world. Deep down, they're both desperate to be loved.
How much of the series is based on your real-life experiences?
All the characters in the show are fictional. The trauma is deeply rooted in reality and I think that's what gives us the authority to make the jokes that we're doing. The things that Josie faces come from what I've seen and experienced and this has given me a warped perspective on the world, and has given me and my sister this very specific sense of humour that comes from our own personal experience. That's the fun of this show, I'm taking issues that we dealt with in reality and finding the most manipulative cathartic way of dealing with it in the sitcom world.
What was it like working with your sister, Lizzie?
It's an honour, because she happens to be the funniest person in the world. It's been the most fun I could possibly have doing this show. Having her with me has been absolute gold dust, because she has such a similar perspective and sense of humour to me because we've been through the same things. She's great at backing up any stories from our past that are so bizarre I'm worried I'm remembering them wrong. She elevates everything I do. She's very much the Del Boy to my Rodney. She knows her character inside out.
Did you always have Lizzie in mind for the role of Billie?
There was never a day where it wasn't going to be her. We've got such a strong shared language that means that we don't even have to really discuss what we're doing in a scene, we just immediately have each other's back. Plus she's not afraid to tell me when she doesn't like something.
Tell us about the family dynamics between the sisters and mum Deb.
There is a lot of friction between all of them, because they have very different perspectives on the world. None of them are completely wrong or right. They're all equally toxic. Together they've created a dynamic of shallow bliss between them. I think they do love each other, but their way of expressing that isn't through saying I love you, but through screaming in each other's faces about something seemingly superficial. I think Deb is trying her best to keep the house and stop the fall of Rome happening, meanwhile Billie and Josie are too self-centred in their own worlds to notice. Josie feels victimised by her mum, but hasn't stopped to notice how much her mum is doing to protect her from the harsh reality of the real world. Billie and Deb are kindred spirits though. Josie's the runt of the litter and they're aware of that. What they do all have in common is they're all united in their quest to be loved, by any means necessary.
Were there any funny moments from filming?
So many. Simon Bird, our director, really set the tone for that and was always up for a laugh. None of us are serious people. We had this game going through filming called 'Under the Sheet' where we would hide a crew member under the sheet and we had to guess who it was. People would lose their minds. Lizzie's pep talk to me before I had to do my kissing scene was a highlight. The hardest I've laughed is we had to film a clubbing scene where Lizzie improvised this dance routine for two minutes and was almost entirely gesturing towards her crotch which was absolutely mesmerising, and I was trying to keep a straight face which was impossible. Everyone was trying to make each other laugh on set, which meant there was this constant sense of fun and energy.
What's your most memorable scene?
There's a few. I really love the scene in a toilet cubicle in episode three, where it's all of us screaming at each other. It felt like the lines are really pinging off each other, and everyone was really at the top of their game doing it. I liked pretending it was like we were in The Thick of It or something. It really felt like the electricity was in the air. We got a sad dose of reality though, because me and Liz thought we nailed it in the first few takes and then Simon our director came in and was like, "guys, what are you doing? Step it up." Turns out we were doing quite bad acting. I think everybody's favourite scene to do collectively was the birthday dinner round the table, because it was just a constant game of competing to see could be the funniest at the table in-between takes, who could be the weirdest, who could annoy each other the most, that was the most fun, I've never laughed so hard. Lizzie had to kick my shin under the table.
Was there any improvisation?
Good question! The dance Lizzie did was absolutely improvised in the club and I had to bite my cheeks until they were bleeding to get through that. We improvised in rehearsals to get to know our characters. I'm a big fan of actors tweaking lines to fit their voice because I think it always makes everything feel more real, which is very important to me. This cast are all powerhouses in their own right and know their characters so well. It brings me so much joy when they suggest stuff. Paul (who plays Dev) had a line that was something like "I'm just gonna go check on my lasagne." Paul said, "I don't think Dev would make a lasagne. He's a perfectionist, he's always on his iPad. I think he'd make a shakshuka" and he's absolutely right. He knows that character inside out, and Dev made a delicious shakshuka.
What inspired you to write the series?
At the start of lockdown, I had this call with my sister. Neither of us had been speaking much, and over the phone I had to tell her I'd been sectioned, and then she told me she ended up in £20k worth of debt that she'd been keeping a secret. I don't know how we'd been keeping these big secrets from each other for a really long time. We both just burst out laughing after we'd told each other what had happened, and it made me realise that you do just deal with the most serious things through comedy, and it's always struck me how we can always make each other laugh, even in the darkest times. Just that conversation made me feel so much better about everything that had been going on, because it just made it feel like it wasn't this big, scary monster anymore. If I can laugh at something, then I can feel bigger than it, and that felt to me like this is terrain I want to deal with in a comedy world, because that's how we talk to each other. And I think hopefully, maybe other people might relate to that, too. It gives us agency over what happened and an element of catharsis. I also feel like I'm quite bored of watching shows that feel very safe at the moment. And I think they're really nice, and I enjoy watching them. But I don't feel represented in those, and I also think they might perpetuate this idea that we should be scared of dealing with the darkest stuff in the comedy world. And that's not how I feel about comedy. It's meant to be a powerful tool, making stuff accessible. So that was what inspired me, really.
How did Simon Bird become involved in Such Brave Girls?
Simon wrote me a letter after watching the pilot saying he'd love to direct the series. So I met him and everything he said was absolutely spot on, he completely understood that it was so important to us to hold on to the comedy. He made it clear that it was also very important to him, and that was completely aligned with how I felt about it, which was really exciting. I think there's a world in which this got turned into a comedy drama because that's the trend currently with a lot of shows coming out, and I think him and me kind of felt the same way that this is resolutely a sitcom. It was honestly amazing to work with him because he's a performer, so he knew exactly how to deal with our insecurities. He was always, always prioritising takes and letting us experiment, and he was a really good collaborative person to work with. That was always the priority on set, making sure everybody felt heard, and wanted to collaborate and have a laugh. I think he really encapsulated that.
You are the writer, creator and star of Such Brave Girls, how was writing for this show different from other shows you've written for such as The Mash Report, Joe Lycett's Got Your Back and Unforgiveable?
Well, it's different, because my face is on it. And also dealing with stuff that's deeply personal to me, I needed time on this stuff to work out how I feel about it and how I want to say, which takes absolutely ages. This is the stuff that I want to put in something that's mine, I wouldn't give for someone else's story that I'm writing for. It was a mix of it being amazing to have that much authority over what I'm doing, but also terrifying to have that much responsibility about the show. It was a big challenge for myself, but I think you're supposed to write what scares you, and I've put a lot of stuff that scares me into this. To be honest though, it's mainly the responsibility of my face being on it.
Do you prefer acting or writing?
I think writing has saved me, it's my favourite thing in the world and I can't imagine not doing it. The minute I got out of hospital, I opened my laptop and started writing again. I take my laptop everywhere with me, I even took it clubbing once. It's something I can't really live without. I find it hard to live in the moment, but with writing I get to live in it afterwards. Acting is very fun, like the days we were all on set you are with people and laughing constantly, and that's the best bit. It's a reminder as to why you work so hard to make a script better, so you can enjoy them on set and make people laugh. I forget that bit when I'm writing. The combination is weird though. It really struck me on set while we were filming how I could spend 2 years thinking about lines and dialogue over and over and over again in my head, and then you basically get 20 min to act it and it's done. Writing is endless.
What do you want viewers to take away from the series?
That they might see themselves in it in a way, or feel like they're not alone. The world is a scary place and if I can do anything to make things feel more manageable or funny, or take the sting out of bits of life that people might be scared or embarrassed or ashamed to talk about, then I've done my job. I think the worst thing you can do is not talk about things, I think it becomes massive and scary, so if I can break down barriers and get people talking about stuff then I'll be happy. Well, not happy, but close enough.
Kat Sadler picture: BBC/Various Artists Limited)