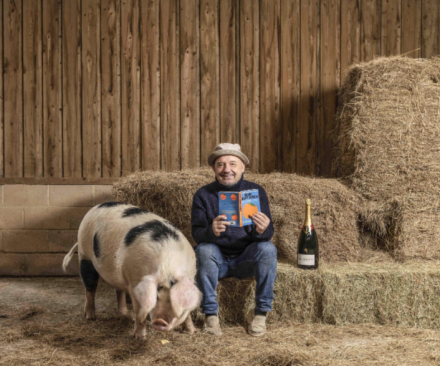 In a year when laughing out loud and seeing the comical side of life seems more important than ever, the Bollinger Everyman Wodehouse Prize for Comic Fiction 2023 has been awarded to Bob Mortimer for his funny and clever debut novel The Satsuma Complex, published by Gallery Books, an imprint of Simon & Schuster.
Now in its 23nd year, the award is the UK's longest running prize for comic fiction and is designed to highlight the funniest novel of the past twelve months, which best evokes the Wodehouse spirit of witty characters and perfectly-timed comic phrases. 
The winner was chosen from a shortlist of six very different titles that collectively showed that comedy can come in all shapes and sizes: farce, satire, parody, and a gentler, witty geniality. The announcement was made this evening at a ceremony held at The Goring Hotel in London. Bob Mortimer receives a jeroboam of Bollinger Special Cuvée, a case of Bollinger La Grande Année, the complete set of the Everyman's Library P.G. Wodehouse collection, and a pig named after his winning book.
Described by the Sunday Times as 'funny, clever and sweet' and by the Daily Mail as "hilarious and surreal" and also "stuffed with laugh-out-loud moments", The Satsuma Complex tells the story of Gary Thorn, a thirty-year-old legal assistant with a firm of solicitors in Peckham, London. Gary goes for a pint with a work acquaintance called Brendan. When Brendan leaves early, Gary meets a girl in the pub. He doesn't catch her name, but falls for her anyway. When she suddenly disappears without saying goodbye, all Gary has to remember her by is the book she was reading: 'The Satsuma Complex'.
But when Brendan goes missing, Gary needs to track down the girl he now calls Satsuma to get some answers. And so begins Gary's quest, through the estates and pie shops of South London, to finally bring some love and excitement into his unremarkable life…
Bob Mortimer said: "I'm really chuffed to have won the Bollinger Everyman Wodehouse Prize for Comic Fiction, and what a treat to have an old spot pig named after the book. I still have no idea if I can actually write but this award gives me fresh hope. Cheers!"
Peter Florence, Chair of the Judges, commented: "He approaches the world with a sly, mischievous smile. I guess this is what happens when you turn a brilliant, oblique comedic attention to life. The language and the tone tip your perception all the time, and he has this strange ability to keep the reader on the very brink of guffawing for whole chapters at a time. You get to love all these characters, the good ones and the bad ones and the very bad ones. And you'll start talking to squirrels."
Victoria Carfantan, Director of Champagne Bollinger, Group Bollinger UK & Global Partnerships, added: "As always, the judges have had a difficult time picking the winner of this year's prize, but The Satsuma Complex really does seem to tick all the boxes. Funny, clever, and with Bob Mortimer's very distinctive voice, it's the perfective literary accompaniment to a good glass of Champagne Bollinger. Many congratulations!"
The judges for this year's prize are: Peter Florence (festival producer and co-director of The European Festivals Forest), Pippa Evans (comedian), David Campbell (publisher, Everyman's Library), Sindhu Vee (comedian), James Naughtie (broadcaster and author), and Justin Albert (Vice President of Hay Festival and Vice Chair, University of Wales).
The other 2023 shortlisted titles were: Darling by India Knight, published by Fig Tree (Penguin Random House); Didn't Nobody Give a Shit What Happened to Carlotta by James Hannaham, published by Europa Editions; Mother Hens by Sophie McCartney, published by HarperNorth (HarperCollins); Murder at Crime Manor by Fergus Craig, published by Sphere (Little, Brown); and Teen Couple Have Fun Outdoors by Aravind Jayan, published by Serpent's Tail (Profile Books).
Photo credit: Laurie Fletcher