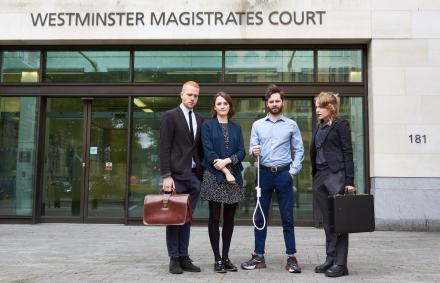 New Episode out now. Catch up here.
Some of the UK's most talented young comics, along with Harry Enfield and Jon Snow, are behind Capital, a new a satirical podcast about civil servants dealing with the fall-out of a referendum that brought back capital punishment with a 51% majority.
The Brexit-inspired satire takes place just after a referendum on Capital Punishment, which was introduced to appease right-wing factions of a minority government but has backfired horribly.
The fictional Department for Capital Punishment is populated by a cast of some of the UK's most promising comics and writers: Adam Drake (Drunk History, Goose, Bounty Hunters), Charlotte Ritchie (Fresh Meat, Call The Midwife), Liam Williams (Pls Like, Drunk History, Double Edinburgh Comedy Award Nominee), and Matilda Wnek (BEARD, Bafta Rocliffe Award Winner). It was devised by the cast, Freddy Syborn (Bad Education, Cockroaches, Bounty Hunters) and Ben Rowse (Goose). It guest stars Harry Enfield as the Minister for Capital Punishment, and Jon Snow as himself.
Capital was conceived by Freddy Syborn, who devised not only an exciting and on-the-pulse premise, but also a fresh way of realising it. The episodes were written as a series of beat-sheets, which formed the narrative spine of each episode. The cast then improvised each episode using the beat-sheet as a jumping-off point, and the subsequent recordings were edited into three episodes by Freddy Syborn. The recordings took place over six days at the National Film and Theatre School in Beaconsfield. The Sound Engineer was Gabriel Chernick. The Sound Mixer was Breen Turner.
Adam Drake, co-star, said: 'Recording Capital with such a dream team was an absolute joy. I almost ended up sympathising with the Civil Servants in the Department for Brexit, whose real-life gaffes and slip-ups can't be edited out.'  
Liam Williams, co-star, said: 'This was the perfect kind of project: a brilliant team, important subject matter and no lines to learn.'
Capital also features Flora Anderson (Free Association), Celeste Dring (This Country, The Windsors, Lazy Susan), David Elms (Mr Swallow's Houdini, Borderline), Rosa Robson (RSC, BEARD, Black Mountain Poets), and Cam Spence (Captain Webb).
The first episode will be available as a free podcast via iTunes, SoundCloud, the iPhone Podcasts App, and the Android Switcher App from Monday 24 July; Episode 2 from Monday 31 July and Episode 3 from Monday 7 August.
Photo credit: Tara Rowse.