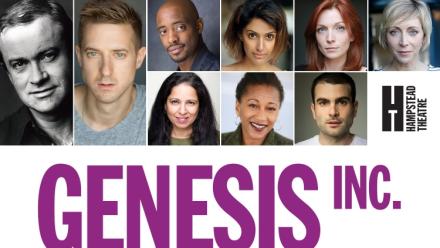 Harry Enfield is to appear onstage at the Hampstead Theatre playing five roles, including a doctor, a woman, God and Karl Marx in a new play, Genesis Inc by Jemma Kennedy.
It is not the first time Enfield has appeared onstage. He made his theatre debut in 2016's Once in a Lifetime at the Young Vic. He also famously played an actor in the classic C4 spoof documentary, Norbert Smith – A Life. 
In Genesis Inc Serena and Jeff have one last chance: Genesis Incorporated, whose glowing testimonials and bespoke treatments surely justify a final roll of the dice. Meanwhile, Bridget has put her future literally on ice while she focuses on her high-flying career and on finding Mr Right.  And all Miles wants is a steady salary so he can buy a property in Zone 4 – oblivious to the fact that, in a different kind of currency, he's actually the richest of them all…
Jemma Kennedy spins a blisteringly entertaining and multifaceted tale of the final frontier of 21st century capitalism: the privatisation of human reproduction. This richly imaginative, topical, and explosively funny new comedy takes a closer look at the lengths to which people will go to defy biology - and at the moral compass of an industry that trades on fear and hope.
The cast also includes Arthur Darvill, Oliver Alvin-Wilson, Ritu Arya, Kirsty Besterman, Laura Howard, Shobu Kapoor, Clare Perkins and Arthur Wilson.
Genesis Inc is at Hampstead Theatre from June 22 - July 28. Tickets: hampsteadtheatre.com