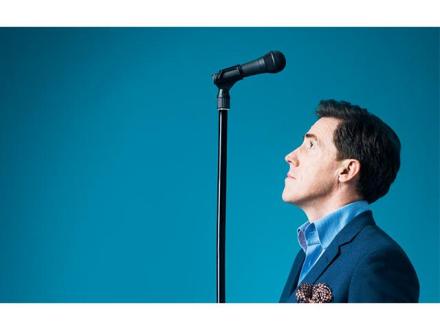 Rob Brydon, Dara Ó Briain, Harry Enfield, Greg Davies, Omid Djalili, Rachel Parris and Angus Deayton lead a glittering line-up of comics performing at 100 Hearts, a Night of Comedy at the prestigious London theatre on Wednesday 13 February 2019. Tickets are on sale from Thursday 1 November.
Other confirmed stars include James Acaster, Jess Robinson, Sindhu Vee, Michael Fenton Stevens, Helen Atkinson Wood, Ahir Shah and Ken Cheng. 
The evening will be hosted by Clive Anderson and produced by composer and actor Philip Pope. In addition to the outstanding comedic line up, the night also boasts a great musical offering and gives a rare chance to see Chris Difford (Squeeze) and the legendary HeeBee GeeBees live in action. 
All the money raised at 100 Hearts, a Night of Comedy, will support the Charity's two priority projects – The Harefield Transplant and Cystic Fibrosis 'Back in the Driving Seat' Appeals. 
The Transplant Appeal is supporting Harefield's world-class Transplant Programme, by funding Organ Care Systems which enable donated organs to come from further away and arrive in better condition when compared with traditional methods. 
The Cystic Fibrosis Appeal is funding the development of a digital platform that is being created by Royal Brompton's Cystic Fibrosis Department. This pioneering platform will enable people with cystic fibrosis to have more control over their care and lives. 
Dara Ó Briain says: "Heart and lung disease can affect any of us and Royal Brompton and Harefield Hospitals are the largest specialist heart and lung centre in the UK.  So, I wanted to do something that would raise them a big chunk of money and while I have been told that laughter is actually the best medicine, I promise to leave the treatments to the doctors and nurses, this time." 
This is the third and final 100 Hearts, a brainchild of British composer Philip Pope and wife Rosie, whose son Will was saved by a heart transplant at Harefield Hospital on New Year's Eve in 2012, at the age of 20. 100 Hearts was launched in 2015 and the two shows have raised well over half a million pounds for the charity.
Philip Pope says: "It's hard to believe that six years ago our son Will was in hospital with heart failure, not knowing if he would survive even a few days. Thanks to the generosity of his donor, the skill and dedication of the surgical team and life-saving new equipment, he is now leading a normal, healthy, active life. He's been given a second chance. With the help of an amazing cast of comedians and musicians, '100 Hearts' is our way of contributing to Royal Brompton & Harefield Hospitals' continued excellence, by funding ground-breaking technology - so that others may get that same chance."  
Listings Information
Date: Wednesday 13 February 2019, 7.30pm.
Venue: London Palladium 
Tickets: From £35.00 (booking fee applies)
Book here from Nov 1.