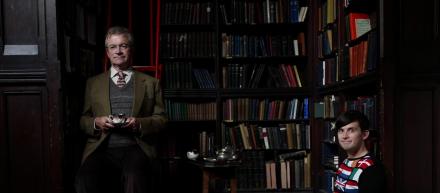 We're leaving Europe. But how did we get into it in the first place? And after we leave, how do we put a divided country, or a divided family, back together? That's the question comedian Kieran Hodgson is seeking the answer to in a new Channel 4 one off comedy documentary, How Europe Stole My Mum.
This timely one-off written and presented by comedian Kieran Hodgson, and starring Harry Enfield, Liza Tarbuck and Tom Palmer, will guide viewers on a journey to understand how and why Brexit split the country and explain how it was that we came to be in Europe in the first instance.
How Europe Stole My Mum is an irreverent, personal piece about Brexit which subverts the conventions of factual shows and illustrates the UK's political landscape at a vital turning point in our history with impressions and flights of fancy.
Creator and writer Kieran Hodgson said, "I've made an extended audition tape to try and play every politician in the next series of 'The Crown'. With any luck, it might also be a bit of a different take on Brexit and our European relationship, finding out how this has gone on longer than we thought, is way more complicated than we thought, and ain't going nowhere! The only solution I can think of is to be very silly with Harry Enfield and Liza Tarbuck, so I've done that."
How Europe Stole My Mum was commissioned for Channel 4 by Syeda Irtizaali, former Commissioning Editor for Entertainment and is being overseen by Emma Hardy, Acting Head of Entertainment. It is a Guilty Party Pictures production, the Executive Producers are Spencer Millman, Simon Bird and Jonny Sweet, the Director is Amanda Blue and the Associate Producer is Kieran Hodgson. How Europe Stole My Mum will air this Autumn on Channel 4.
How Europe Stole My Mum is (currently) scheduled to air on C4 on Thursday 31st October at 11.05pm.