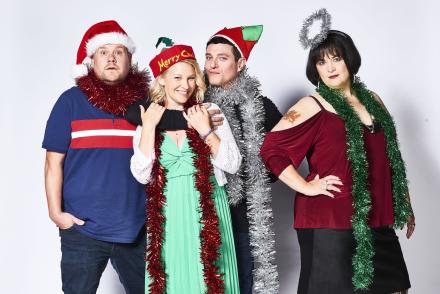 The Gavin and Stacey Christmas Special has topped the Christmas Day viewing figures.
Early overnight figures show suggest that the special has already been watched by a record 11.6 million viewers and further catch-up numbers are still to be added.
The first new edition of the hit series in ten years aired in the primetime 8.30pm slot and bagged 49.2% of all TV viewers.
The show was billed as a one-off but ended on the cliffhanger of Nessa (Ruth Jones) proposing to Smithy (James Corden).
It remains to be seen whether any more episodes will be made. No more have been written at the moment.
On Christmas evening James Corden tweeted a picture of him with Jones watching the epsidoe together and wrote: "We had to be together to watch it go out tonight! Gavin and Stacey is a show about friendship and family. Tonight's show has been a labour of love from start to finish and we hope you enjoy it.Wherever you are and whatever you're doing.Happy Christmas from us both #GavinandStacey"
BBC/GS TV Productions Ltd/Tom Jackson