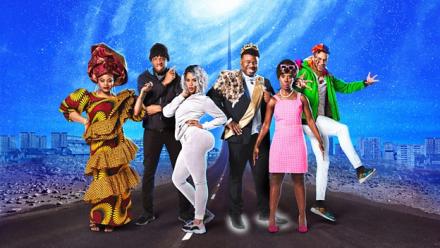 The comedy sketch show where nothing is off limits is back. In episode one see how the E19 Posse are doing their bit for the environment, tune into an episode of Jamaican Countdown and watch as our favourite African Aunties learn their nephew's secret.
Series three stars Vivienne Acheampong (The Aliens), Bafta Award-winner Gbemisola Ikumelo (Brain In Gear), Bafta-nominated Samson Kayo (Sliced, Timewasters), John MacMillan (Dark Knight Rises, Chewing Gum, King Lear), Tom Moutchi (The Hustle) and Danielle Vitalis (I May Destroy You).
Available on BBC iPlayer as a five-episode series from 6am on Sunday 23 August.
Famalam Series Breakdown
Episode one
We'll find out how to make White People Chicken, pull back the curtain on Interracial Adverts and discover what happens when you try to reveal spoilers for a TV series.
Episode two
Prince Alyusi brings his brand of philanthropy to a wider audience, superhero Night Owl battles her most dangerous foe and the E19 Posse teach an important lesson. A Golden Ticket allows black people to be white for a day, and adventurer Wolf Chambers faces his toughest challenge yet...
Episode three
Detective Moses Mountree returns to Midsomer, an African Warlord faces a new threat and we meet an unscrupulous Pastor. Meanwhile, crooner Thaddeus Price croons a romantic song to his girlfriend and social media addict Peter becomes a viral sensation.
Episode four
Idris Elba proves he is a dab hand at everything, a Police Officer displays her comedic timing while Mozart invents a new hit. Movie star Babatunde Warrington invites a film crew to his bachelor pad, while rap star Yemi Chedda adopts a Child.
Episode five
Fat Sam goes in search of romance, while Sean and Leslie get married. Movie star Babatunde Warrington shoots a music video and our favourite African Aunties return for more fun.