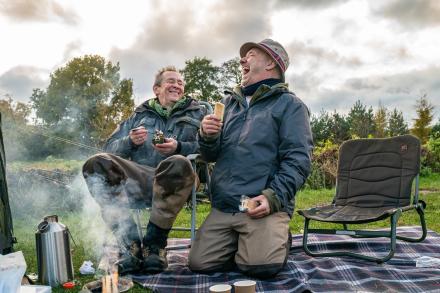 Bob Mortimer was well on his way to National Treasure status even before his fishing series with Paul Whitehouse became a major hit. His work with Vic Reeves, his shaggy dog stories on Would I Lie To You? and his general air of comic genius have all conspired to make him something of a hero. So it's great to see him back in his waders for this third series.
In the first episode set on and in the River Tweed it actually seems to be Paul Whitehouse that does most of the heavy lifting when it comes to the fishing. Whitehouse has been the Mr Miyagi to Mortimer's Karate Kid throughout two series so far and I'm not sure how much Mortimer has actually picked up.
Instead Mortimer provides food, doing most of the cooking, scruffy wisdom and, most of all, giggles in this series opener. Whether by falling over or telling stories or simply asking Paul Whitehouse daft questions as they shoot the breeze after a hard day of sitting by the riverbank.
The theme of mortality that has been a leitmotif before also returns when Mortimer talks about his father dying when he was growing up. Mortimer even turns his dad's death in a car crash into a funny anecdote and recalls that he became addicted to sugar afterwards because maybe he wanted some sweetness in his life.
There is certainly plenty of sweetness in Gone Fishing as the old friends finally land a pretty impressive trout. You could almost get as much fun out of watching this show with the sound down by just luxuriating in the epic overhead drone shots of the English countryside. But please don't do that or you'll miss Mortimer berating Whitehouse for his very poor skin regime. 
Mortimer And Whitehouse: Gone Fishing, BBC Two, Sundays, 8pm from August 23.
Pictures: BBC/Owl Power/Pete Dadd