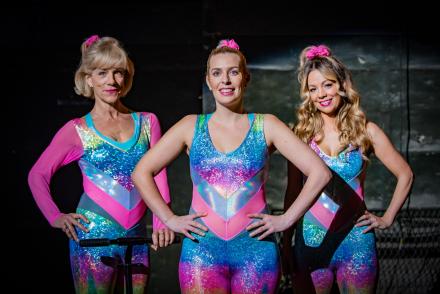 Sara Pascoe's self-penned new comedy is not backwards in coming forwards. As she says at the start,"I am going to destroy your faith in love." Mrs Brown's Boys this ain't then. But it might just be my new all-time favourite sitcom. 
Pascoe stars as Sara, a single thirtysomething whose sister (Fiona Button) is getting married, her best friend (Cariad Lloyd) is pregnant and pretty much everybody else in her age category seems to be hitched up in a relationship. 
But why? Asks Sara. She sort of answers the question herself in one of her fourth-wall-smashing footnotes when she talks about the science behind love and how at the end of the day it's only a chemical reaction. But then, she adds, you have positive chemical reactions to inanimate objects and you don't spend the rest of your life with them do you?
Out Of Her Mind is a crisp, smart well-structured utterly modern comedy. In the first episode it touches on mental health, racism and other major hot potatoes, but also functions as a recognisable, conventional relationship/family sitcom. Juliet Stevenson, as Sara's fitness and white wine-obsessed mum is not that far removed from Miranda's cartoonish mum played by Patricia Hodge.
But while there are antecedents (look at me, I haven't mentioned Fleabag, oh sorry, I just have) Out Of Her Mind feels fresh, funny and constantly surprising. Just as you think you've got a handle on things it scuds off at another angle, with fantasy and reality blurring together. It has some lovely meta moments. At one point a character (played by comic Jess Fostekew) says: "How come you're not on TV any more?" To which Sara naturally replies "I am, this is my programme."  
It's also worth noting that it is very female-dominated as well as hilarious (see? the two can go togther). For a change men are playing supporting roles. After Aisling Bea's This Way Up and Katherine Ryan's Duchess it's fantastic to see a new wave of women larging it on the sitcom front line. 
Out Of Her Mind, BBC Two, Tuesdays from October 20 at 10pm.
Picture: Stolen Picture/Matt Crockett