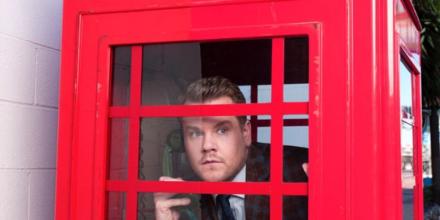 Want to know who is on Jimmy Fallon or who is on James Corden? These are the upcoming guests on this week's editions of American chat/talk shows The Tonight Show With Jimmy Fallon on NBC and The Late Late Show with James Corden on CBS.
Both shows are broadcast in the UK the night after the American broadcast. They can be seen on Sky Comedy/NOW TV usually back-to-back around 11.30pm.
Beyond The Joke does not usually list American talk shows but this week's schedules caught our eye because one of Jimmy Fallon's guests will be BBC chat show host Graham Norton – arguably the most popular chat show host in the UK. It'll be interesting to hear what Norton has to say about the chat show genre, although he may also be appearing to plug his book. We are assuming the interview will be conducted ver Zoom.
Here are the schedules at the moment at press time - please note they may be subject to change. The dates are the American broadcast dates, so add a day to see who is on UK channels and when..
The Tonight Show With Jimmy Fallon
Monday 14/12: Gal Gadot (Wonder Woman), Ricky Martin, Lana Del Ray 
Tuesday 15/12: Kirsten Wiig, Graham Norton, Jack Harlow
Wedensday 16/12: Tina Fey, Patty Jenkins, Marcus King
Thursday 17/12: Paul McCartney (the former Beatle has a new album out, recorded in lockdown at home is Sussex – or "rockdown" as he calls it), Pedro Pascal, the Voidz
Friday 18/12: Olivia Colman (aka the Queen in The Crown on Netflix), Lucas Hedges, Barry Gibb, Jhene Aiko, Nas  

The Late Late Show with James Corden
Monday 14/12: Kyle Chandler, Meghan Trainor
Tuesday 15/12: Keegan-Michael Key, Roddy Rich 
Wedensday 16/12: Nicole Kidman (star with Hugh Grant of this year's big thriller hit The Undoing), Kerry Washington, Phoebe Bridgers 
Thursday 17/12: Gal Gadot (yes, Wonder Woman again), Smith & Burrows (featuring Andy Burrows, who was in Razorlight and also worked with Ricky Gervais on his live musical outings as David Brent and in the film Life on the Road) 
Friday 18/12: Billie Eilish, Mariah Carey, Taylor Swift, Jennifer Hudson Rebel Wilson, Jason Derulo, Francesca Hayward, Andrew Lloyd Webber, Tom Hooper.