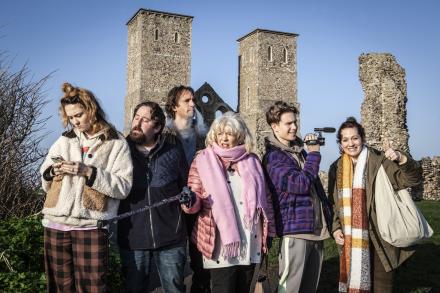 It seems a bit presumptious that for some reason this one-off comedy is billed as a Christmas special on the BBC pictures website. It makes it sound as if it is following on from a hit series. But on the positive side Pandemonium feels so instantly accessible and so well-rounded that it could easily be following on from a hit series.
Katherine Parkinson and Jim Howick play Rachel and Paul Jessop, a husband and wife who are determined to have the holiday they postponed due to Covid. Except that now instead of taking the whole family to America for a hedonistic sun-and surf escape it looks like a wet weekend in Margate is the only option available to them.
The Margate angle is a bit of a red herring though. What this comedy, tightly written by Tom Basden, who also plays Rachel's brother Robin, is really about is family dynamics. The secrets and lies that bind us together. Rachel has things she is not telling Paul, while daughter Amy, (Freya Parks) has something she doesn't want gran Sue (Alison Steadman) to know.
When you've got a cast that includes comedy stalwarts Parkinson, Steadman and Howick from Ghosts on board you can be pretty sure you are onto a winner. The topical angle - gags about clapping for carers, social distancing, plus references to hospital appointments being cancelled and Brexit – gives it a bit of edge, placing it at a particular point in our history. But, despite that and the documentary format – son Sam (Jack Christou) is filming everything with a mix of hand held and hidden cameras – this is pretty coventional.
Take away the Covid content and you've got an enjoyably familiar extended modern nuclear family comedy. There are a couple of laugh-out-loud moments and one big set-piece and you'll certainly keep watching to the end. This could easily spin-out into a full series without the pandemic-inspired plotting and maybe have another non-pandemic Xmas special next year.  
Watch Pandemonium on catch-up here.
Pictured: Amy Jessop (FREYA PARKS), Paul Jessop (JIM HOWICK), Robin (TOM BASDEN), Sue Jessop (ALISON STEADMAN), Sam Jessop (JACK CHRISTOU), Rachel Jessop (KATHERINE PARKINSON)

Image Credit: BBC Studios/Andrew Hayes Watkins