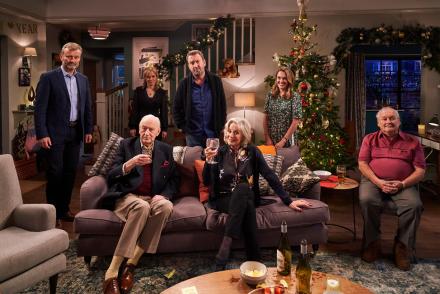 Well I guess if one sitcom title sums up 2020 it's this one. And they've given us a sort of socially distanced lockdown episode to see out the old year and see in the new (albeit a day early) with the entire cast including Bobby Ball all in one room throughout the special.
It's New Year's Eve and we join Lee (Lee Mack) and Lucy (Sally Bretton), Lee's lovably feckless father Frank (Bobby Ball), generally put upon Toby (Hugh Dennis), the ever uptight Anna (Abigail Cruttenden), Lucy's occasionally pompous father Geoffrey (Geoffrey Whitehead) and an unusually high-spirited mother Wendy (Deborah Grant) as they wait for the traditional midnight trifle - though that's a new tradition on me. 
Things soon become a bit tense though when the parlour games get out of hand. It's also a bit touching too though, when they play that game where you have to guess what famous person you are and the late Bobby Ball guesses that he is the late Nobby Stiles. Little did they know when they filmed this that both Ball and Stiles would pass away in late October within two days of each other.
It's an episode that mixes the typically smutty (and an unexpected gag about amyl nitrate and anal sex) with the seriously dramatic as the wine flows and some home truths spill out, turning what should be a fun gathering into an impromptu encounter therapy session. It's not exactly Abigail's Party but it does move towards Mike Leigh secrets and lies territory before returning to a more comedic sure footing. The result is a trifle on the stagey side, but it is still an episode that bodes well for the new series starting in early January.
When Bobby Ball died in October Lee Mack issued a statement: "I'm utterly shocked and devastated to lose my mate Bobby like this. I filmed with him just a few weeks ago and he was his usual funny and cheeky self. My thoughts are with Yvonne and his family, and of course Tommy. To get to work with one of my childhood comedy heroes was great, but to call him a friend was even better. Rest In Peace Bobby x."
Not Going Out, Wednesday, December 30, BBC One, 9pm.
Picture of Lee Mack, Bobby Ball and the cast:

BBC/Avalon/Mark Johnson