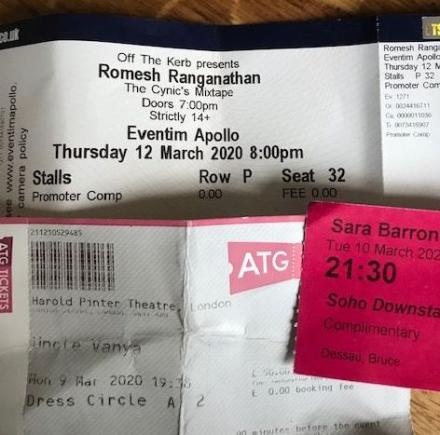 2020 might be a year we want to forget, but there is one week that I will never forget. Maybe it was a premonition and like a squirrel storing up nuts I wanted to get some comedy in the bank, but the week before Covid-19 really hit the UK I saw many more live shows than I usually see in a week in London.
On a normal week in the capital I might only see two shows but the week starting March 9 was a busy one with so much to look forward to. I've always felt I'm the luckiest person in the world to have a job reviewing comedy. With luck like this maybe I should enter the lottery to bag a big jackpot.
On Monday, March 9 it was a friend's birthday so we actually took in some culture and went to see Chekhov's Uncle Vanya at the Harold Pinter Theatre. The play is not strictly a comedy but it does swing from laughter to tears. And, as it happens the theatre it was in was formerly known as the Comedy Theatre, so I'm counting it. You can judge for yourself - a specially filmed version is now available on BBC iPlayer.
On Tuesday, March 10 I had to plan the evening with military precision, with two shows a few miles apart. First up there was the intriguing Shoe Lady, a play by EV Crowe which was at the Royal Court. It starred the brilliant Katherine Ryan who comedy fans will know from The IT Crowd and, recently, Taskmaster. It was about a woman who basically loses a shoe and tries to continue with her day as things spin out of control.
As soon as the curtain went down I jumped into my car and headed to the Soho Theatre to see Sara Barron. My biggest fear was not being able to find a space to leave my car. Fortunately the parking gods smiled on me, I got a space right outside on Dean Street and enjoyed a set from this rising star.
Wednesday, March 11 was easier. Only one show to see. Catherine Cohen at Bush Hall. Cohen won the Edinburgh Comedy Award for Best Newcomer in 2019 and didn't disappoint with a set that mixed cabaret, songs and smutty self-revelation.
There was one niggle. News reports were coming through about Coronavirus. Cohen was great and was booked to appear until Saturday. Then the next day, about an hour after my rave review ran, I received this email: "In light of upcoming travel restrictions between the US and Europe caused by COVID-19, Catherine's remaining dates in London will be rescheduled until later in the year. Catherine sends her apologies and will be back in the UK soon." We are still waiting for those new dates…
Not to worry though, there was plenty more comedy. In fact there was a clash on Thursday, March 12. Should I see Romesh Ranganathan at the Eventim Apollo, or Iain Stirling at the Queen Elizabeth Hall on the South Bank. I opted for Romesh. Good call. At 4:09 Stirling tweeted: "Hi everyone, I'm a bit under the weather and while I'd usually be very happy to soldier on, with the current situation me and my team think it's correct to take the precautionary measure of postponing my gig in London tonight, as well as my dates next week in Bristol and Brighton."
Romesh was fantastic and pretty full. People didn't seem that nervous about going out. I bumped into a friend and we joked about my cough (not Covid-related I'm glad to say) and did the recommended elbow to elbow greeting. We were still able to be reasonably light-hearted about it.
And after all, I had my gig of the week to look forward to – Steve Martin and Martin Short at the Royal Albert Hall on Saturday. Until Steve Martin's band The Steep Canyon Rangers posted a picture of themselves, including Steve Martin and Martin Short, plus the following paragraph, on Instagram: "We've cancelled the last half of the UK tour and are grateful to be back in the states, via Greenland. Still trying to get used to this no hugging thing, though. The music won't stop, it'll just be a minute til we're all together again, be well and take care til then. #steepcanyonrangers"
And so my unique week of comedy drew to an abrupt close early. Well, actually not quite. On Sunday, March 15 I judged the annual Sketch Off final at the Leicester Square Theatre. There was a decent-sized crowd too. Maybe people wanted one last chance to laugh in the company of others. The winner was Kathy Maniura. Let's just hope the Leicester Square Theatre is able to host a 2021 final in March 2021. As for that week in 2020, I won't forget it for a long time.