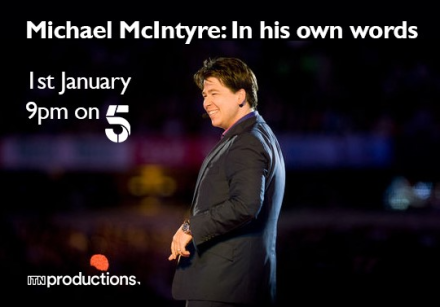 If you tune into Five on Friday, January 1 from 9pm you will definitely see Michael McIntyre in their documentary, Michael McIntyre: In His Own Words. You might also see some of me if I've made the edit.
I haven't done TV punditry for a long time but I came out of retirement for this one. I don't know how much sense I made or how much of me they will use – they've got plenty of other talking heads to use as well, including Jonathan Ross, Eamonn Holmes, Marcus Brigstocke, Rob Rinder, Kate Copstick and Andi Osho.
But if you have any interest at all in stand-up comedy this should be well worth watching. As I've written previously, there have been a couple of great comedy documentaries recently – on Billy Connolly and Micky Flanagan – so the bar has been raised for the genre.
The documentary sounds fascinating. And even if you are familiar with his remarkable rise, from struggling to pay bills to selling out the 02 Arena, you just know there are going to be plenty of laughs here. Come for the story, stay for the gags. It's called Michael McIntyre: In His Own Words, but it could probably be subtitled In His Own Jokes.
Michael McIntyre In His Own Words, Friday, January 1, Five, 9pm.