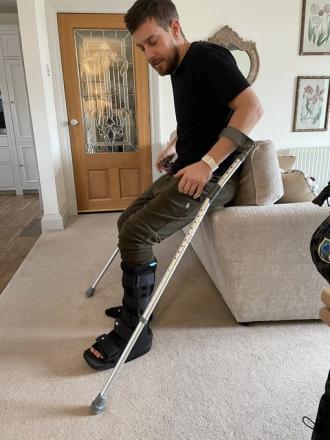 Strictly Come Dancing star Chris Ramsey has returned from hospital after breaking his ankle.
The accident happened when he was out exercising in the park and had a fall while running. He managed to get himself home in his car and then went to A&E.
The picture here was posted on Twitter on the Shagged Married Annoyed account- it's the name of the hit podcast he hosts with his wife Rosie.
The accident could not have come at a more difficult time. Apart from the Covid-19 crisis, Ramsey's wife Rosie has only just given birth to their second son Rafe via caesarian section, so life is a bit of a challenge in the Ramsey house right now.
Chris Ramsey was able to see the funny side though, tweeting: "Big shoutout to my Dad who wheeled me into A and E today with my broken ankle while singing "Never gonna dance again". Cheers Billy!"
Picture: Twitter