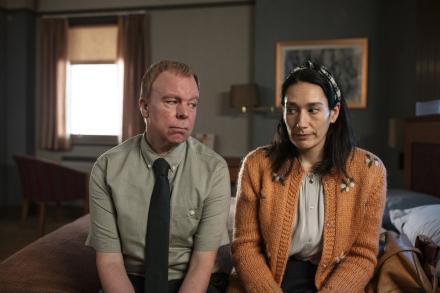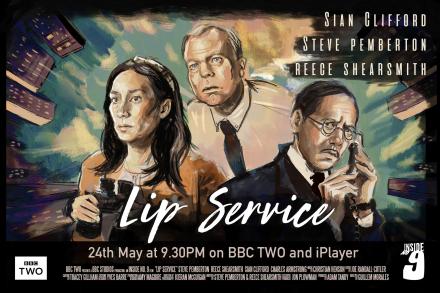 One of the many takeaways from this week's episode, Lip Service, is that it's so different to the last two episodes in the current series of Inside No 9. 
Steve Pemberton takes the lead as lonely Felix, who hires a professional lip reader so that he can spy on his wife across the street from his sleazy hotel room window. He is convinced she is having an affair with her boss Dmitri. Reece Shearsmith chips in as the heavily accented invasive Germanic hotel manager. It's immaculately cast with Pemberton playing another of his classic downtrodden types. If he'd played the hotel manager it might have come a little close to League of Gentlemen creation Herr Lipp (no pun on the episode title intended).
And best of all they are joined by Sian Clifford whose dowdy character Iris is light years away from her uptight Claire in Fleabag. Pemberton and Clifford have great chemistry. In one exquisitely constructed scene Felix is on the phone to his wife but we hear her side of the conversation via Clifford who is lip-reading it through the window.
This is the most theatrical of episodes so far in the series. The bleakness and black humour has echoes of Pinter, while the hotel room location has a sense of stark staginess to it but in a good way, with the mood shifting from farce to darkness with seamless style.
There is a tendency for some viewers to spend too much time trying to second guess the pay-off and spot the seeding (something neatly joked about in the first episode of this run, Wuthering Heist). Don't bother to do that here, just sit back and enjoy. Binoculars optional. 
Inside No 9, Lip Service, BBC Two, Monday, May 24, 9.30pm. And then on catch-up here.
Image credit: BBC/Sophie Mutevelian/Amy Tyler
Poster design by Poppy Hilstead