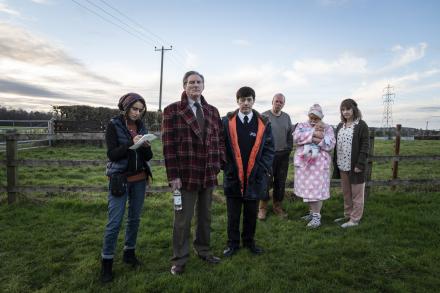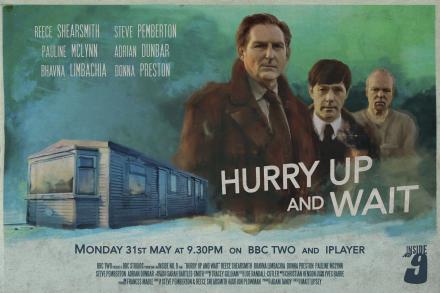 The world of TV criticism is in danger of running out of superlatives when it comes to Reece Shearsmith and Steve Pemberton's Inside No 9. The impeccable standard of the latest series is maintained with the fourth episode, Hurry Up And Wait, directed by Matt Lipsey, which steps into the world of police procedurals - in Inside's own inimitable fashion of course.
Reece Shearsmith plays James, a meek actor who turns up dressed for his small role as a police officer in the prestigious TV drama. Could it be an episode of Line of Duty? Well, Adrian Dunbar, aka Hastings is in it and playing 'himself' when not in character, but as Dunbar is quick to point out, this is different to all of his previous TV copper roles because his hair is parted in a different place*. Dunbar keeps a seriously straight face while sending up any luvvie tendencies and hoovering up any lines going spare (dialogue, not cocaine, I should add).
James, meanwhile, sits in a static caravan while waiting for his call from assistant Jo (Bhavna Limbachia), which means making awkward conversation with the people who usually live there and haven't quite vacated it for the duration of the shoot. Pauline McLynn plays mum Oona (no Father Ted in-jokes from me about forcing a cup of tea on James), Steve Pemberton plays aggressive dad Stan and Donna Preston plays Bev, who shows the most interest in James.
As the fictional crime drama plays out outside the confines of the caravan James' mind starts to race. Is it the nerves of his approaching scene or something else getting him uptight...
*Actually the BBC programme notes say it's an ITV drama so it can't possibly be Line of Duty.
Once you've watched it listen to the Shearsmith/Pemberton podcast about this episode here.
Inside No 9, Hurry up And Wait, BBC Two, Monday, May 31, 9.30pm. And then on catch-up here.
Pictured l-r: Jo (BHAVNA LIMBACHIA), Adrian (ADRIAN DUNBAR), James (REECE SHEARSMITH), Stan (STEVE PEMBERTON), Bev (DONNA PRESTON), Oona (PAULINE MCLYNN) (L-R)
Picture: BBC/Sophie Mutevelian
Artwork by Amy Maguire