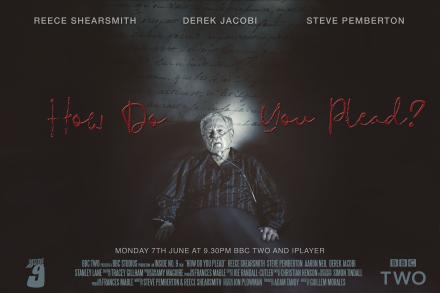 Inside No 9 is having a great run at the moment. On Sunday night the anthology series won the Bafta award for Best Scripted Comedy but as any fan will already know, there is so much more to Reece Shearsmith and Steve Pemberton's masterwork than mere laughs. And this week's chilling How Do You Plead? very much underlines that point brilliantly.
It's also an interesting episode because it co-stars Derek Jacobi (of I, Claudius, or I, Clavdivs as the cool kids called it) who becomes the first guest actor to appear in more than one episode – he did a voiceover in The Devil of Christmas. Shearsmith has joked that you are allowed to return as long as you have only done a voiceover. I guess he co-writes the show, he can make up the rules. 
And I don't know if this has anything to do with the casting, but Jacobi also appeared in Roald Dahl's Tales of the Unexpected epsiode Stranger in Town in which he played a mysterious japester gallivanting around the streets of Norwich. Shearsmith and Pemberton have previously said that they are fans of Roald Dahl's self-contained series.
All of which is basically waffle – but hopefully entertaining waffle - to fill my word count without giving away any spoilers. In How Do You Plead? Jacobi plays an ailing, bedbound successful lawyer called Webster, Shearsmith plays his carer Urban Bedford*, Pemberton plays the lift attendant who takes Shearsmith up to Jacobi's apartment.
It looks as if Jacobi's character might finally be about to pass away, but could there be something else afoot? As you'd expect for an episode that features a lift with horror movie clanky doors, there are plenty of ups and downs before we get to the final pay-off... 
Inside No 9, How Do You Plead? Monday, June 7, 9.30pm, BBC Two
Picture: BBC/Sophie Mutevelian/Andy Bottomley
*what an odd name, it must have some relevance but don't ask me... (update - name explained here in podcast)