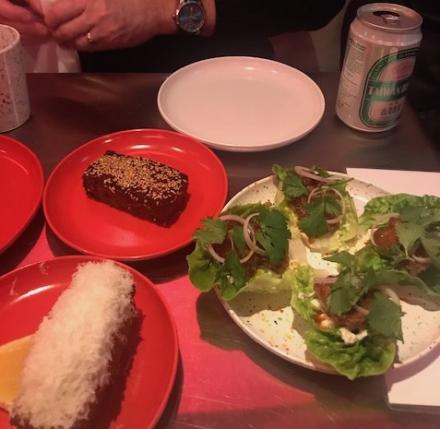 Something of a change from the usual comedy nonsense here. Beyond The Joke has branched out into restaurant reviews. Not any old reviews though. I've reached an age where I tend to go to the same restaurants and order the same food. Sweet and sour pork. Pad Thai. Steak frites if I'm feeling flush. And even when I go to new restaurants I still look for my old faithfuls.
So to shake myself out of my comfort zone (you wait, I'll be on Strictly next) I've decided, with a friend, who may be named at a later stage, to try out different restaurants that have already been favourably reviewed elsewhere. Thus the readers gets a chance to see if us plebs get the same nosh treatment as famous critics. And just to be rigorous I will order the same dishes as the critics, forcing myself to have a double-plus fresh experience. Fresh place. Fresh food. 
Call it seconds. Or second helpings. Or second opinions. But definitely not sloppy seconds.
First up was new Taiwanese eaterie Mr Ji in Soho, as we'd just come out of The Shark is Broken at the Ambassadors Theatre nearby. Jay Rayner reviewed this in the Observer in May when it was more of a summer pop-up and gave it a very favourable review so I thought I'd try out the new informal bricks and mortar cafe-style version which says on its website: "focuses on all things chicken and small plates." Rayner's review had the headline 'Bright lights and sparkly thrills in the heart of Soho'. Could lightning strike twice?
Well, to cut a long story short (we are, after all only a chopstick's throw from the old nightclub on Meard Street where the embryonic Spandau Ballet used to hang out), Jay Rayner knows his onions. And his Taiwanese chicken. And he also has a healthier appetite than me, unless he is allowed to leave food or takes a doggy bag. We had to admit defeat after six shared dishes and four Taiwanese beers. 
By the way, the beer scenario was confusing. Presumably they are allowed to sell alcohol, so why not wine? My colleague suggested they wanted to keep things strictly Taiwanese (though I later noticed that they do cocktails). I asked our friendly waiter why no wine and he said they didn't charge corkage. I replied "brilliant, can I go and get some from Tesco then?" to which he looked at me sternly and I stuck to my beer.
Anyway, I expect you are waiting to hear what the food was like. Well, it was certainly not like anything I've had before, so mission accomplished there. I thought I was ordering prawn toast, you know, a slice of white fried bread with squashed shrimps on it. What I got was "Prawn In Toast" (£7.50) – fried brioche filled with bechamel, sweet corn and prawns, parmesan. It felt pretty deep fried as well as chewy and fishy and certainly hit the spot. 
As did the Daikon Cake (£5.50). I didn't even know what Daikon was until I visited Mr Ji. Now I know it's an Oriental winter radish and I can't get enough of it. I need more daikon in my life. This slice was double cooked daikon & shiitake cake, with garlic soy paste. As you can see from the picture, both starters might look like they came from the sweet trolley but had a deliciously savoury kick. 
Talking of kicks the only dish that was a bit of a disappointment was the Citrus Salad (£6). It was made up of green papaya, carrot and daikon (so far so good, I'm liking that daikon, did I mention that?), coriander stalks and citrus chilli dressing, but there was too much chilli dressing for me. My lips were burning while I also spotted beads of perspiration on my colleague's forehead. Too much kick for my liking. A second Taiwanese beer (£4.50 each) and tap water soon sorted us out though. No need to call the fire brigade.
The funny thing was that the Kimchi (£4.50), which I expected to be spicy, was relatively mild. When I've had kimchi in Korean restaurants I've used it more as a garnish (I hope I didn't commit some grave faux pas that would get me shot on Squid Game). Here it was more a side salad and a very pleasing one. 
We shared two meat dishes which were both different to anything I'd had before and both delicious. The chilli chicken (£11) consisted of a seductive plate of double cooked chicken thigh bites, crispy chilli and onions. Unlike the citrus salad the chilli here enhanced the flavour of the succulent chicken. And I don't think I've ever had a chicken heart (£8). They came so neatly tucked into their little lettuce beds it seemed a shame to wolf them down. But wolf them down I did. 
And at that point we had to admit defeat. The Mr Ji menu is small but beautifully constructed. I was a little bemused why there was no rice dish and why the only meat was chicken. But who cares about a restaurant being all about the chicken when the chicken is so good? I would have liked to have finished with a Taiwanese ice lolly (£4.50) just to see how it differed from a Magnum. But firstly I was stuffed. Secondly Jay Rayner didn't have one. And rules is rules.
Mr Ji, 72 Old Compton Street, W1. Book Mr Ji here.
Total bill for two inc service (and four beers): £68.06
Picture © Bruce Dessau