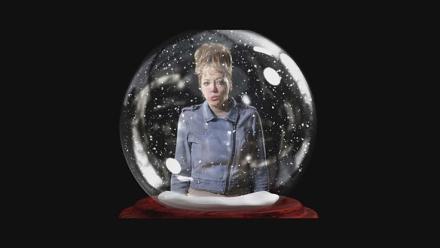 What is the true essence of Christmas? Is it the glimmer in a schoolboy's expectant eye as he opens his pillowcase on Christmas morning and tucks into a delicious walnut and a bruised tangerine? Is it the wide smile on a publican's face as he welcomes merry revellers with a vat of warm mulled wine he's made in a sort of electric keg he normally puts oxtail soup in? Is it the haunting harmony of a choir respecting the current Covid protocols? Or, is it a Christmas episode of a TV show that is slightly longer than usual to make it appear "special"? Find out the answer in this Christmas episode of Mandy, starring Diane Morgan as our eponymous heroine. It is slightly longer than usual.
Mandy: We Wish You a Mandy Christmas, a 1x16' is a BBC Studios/Witchcraft Industries co-productio, written, directed by and starring Diane Morgan. It is produced by Michael Spicer and co-produced by Kenny Tanner, the Executive Producer is Ben Caudell. The Commissioning Editor for the BBC is Gregor Sharp.
Two Doors Down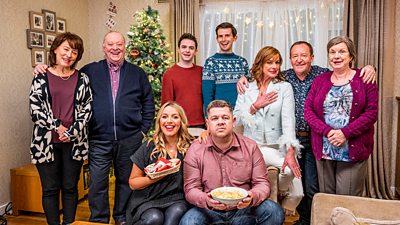 Two Doors Down returns with another festive special of the hit comedy centred around a family and their insufferable neighbours.
Having been away in the Highlands last year, we're back on home turf in Latimer Crescent. And it's all merry and bright over at Michelle and Alan's as they welcome the neighbours for a wee pre-Christmas get together… But the festive atmosphere soon turns a little fraught.
Beth and Eric sit themselves down on the sofa and are given on-the-spot invitation to spend Christmas with Gordon's parents in Yorkshire, which in turn causes Christine to feel vulnerable. Gordon irritates Ian with all his fussing, and Cathy – as ever – is desperate to find the 'real' party, with poor Michelle then in turn struggling to keep the evening on track.
There are brief glimmers of harmony when the neighbours play a silly kazoo game and decide to do something special for Christine - but Alan's attempt to de-stress Ian backfires when Gordon goes and ruins things for everyone.
Arabella Weir plays Beth, Alex Norton is her husband Eric, Jamie Quinn plays their son Ian with Kieran Hodgson as his boyfriend Gordon, with Elaine C Smith as Christine, Doon Mackichan as Cathy, Jonathan Watson as her husband Colin and Joy McAvoy as Michelle and Graeme 'Grado' Stevely as Alan.
Written by Simon Carlyle and Gregor Sharp, the director is Ben Gosling Fuller, the producer Jacqueline Sinclair and Executive Producer is Steven Canny. Two Doors Down is produced by BBC Studios Comedy in Scotland.