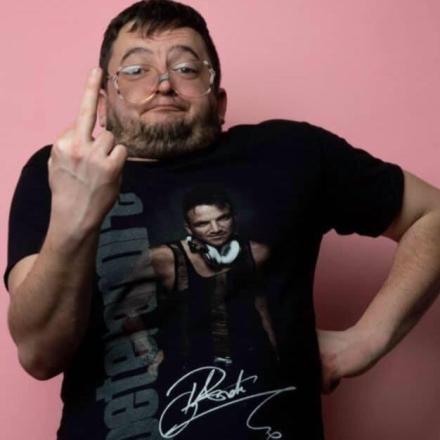 Notts-based Scott Bennett has won Best Act at the Midlands Comedy Awards for the third time in a row at the annual ceremony to recognise regional comedy talent. While relative newcomers Hollywood Comedy Club – based in the Hollywood suburb of Birmingham – triumphed in the Best Comedy Club category, narrowly beating the perennial favourite, Birmingham's Glee Club, into second place.
Co-founder of Leicester Comedy Festival, Geoff Rowe, was given the Outstanding Contribution award in recognition of his nearly three decades promoting comedy in the Midlands region.
Bennett (pictured without glasses) was announced as winner of the main award, as well as the Best Live Show title, at an awards ceremony which took place at the Canal House in Nottingham. The same venue is home to a regular comedy night run by NCF Comedy who picked up the Best Small Club trophy. Best Act runner-up was Derbyshire-based Stevie Gray, who recently launched "Flat Cap Comedy".
Awards founder, Jay Shareef, commented: "It's been a challenging couple of years, and the region's comedy community collectively decided not to have awards last year. But we're back with a bang for 2022, and it great to see so much new talent getting recognition as it shows that the Midlands as a whole is still nurturing and encouraging acts to develop.
"No-one here is surprised at Scott Bennett's success. This is his third Best Act win in a row and, with five in total, he's the most successful solo act in the history of the Midlands Comedy Awards. His popularity has been rising for years, he's produced some pioneering online content, and his recent appearance on the BBC's Live at the Apollo has catapulted him on to a new level of success."
Breakthrough Act was a one-two for Birmingham, with Tal Davies as winner and Eric Rushton in the runners-up position. (Davies was runner-up in the Best New Act category last time around.)
Best New Act is always the most competitive category and, this year, Ricky Balshaw from Telford triumphed over the six other finalists, with Josh Reynolds from Staffordshire bagging second place.
The Alternative Act Award recognises those non-mainstream performers who normally get ignored in other awards. This year it was a very tight two-horse race between a pair of double-acts, with Good Kids eventually repeating their victory from 2019. Musical duo The Boys From The All Night Chemist came second.
The Online Comedy gong was inevitably going to Jack Kirwan, whose viral comedy character Gary Powndland (pictured with glasses) has now become the centrepiece of popular theatre-filling shows across the region and beyond. Jack won the same award last time around as well, but this year he had strong competition from runner-up Scott Bennett, whose "Standup from the Shed" became an online hit during the lockdown.
The Best MC Award went to Mansfield-based Jon Pearson, with four-time winner Barry Dodds in second place. Best Live Show went to "Relax" by Scott Bennett and runner-up was the zero-material, audience-focused "What have you been up to?" by Jon Pearson.
The surprise of the night was in the Best Comedy Club category, where Hollywood Comedy Club, launched in April 2018, took the prize ahead of Birmingham's well-established Glee Club. Based in South Birmingham, the relative newcomer has brought circuit headliners to the sleepy suburb of Hollywood, and has a reputation for giving stage time to rising local talent.
Geoff Rowe, winner of the Outstanding Contribution award, commented: "I'm delighted to accept this award on behalf of the community that helps sustain Leicester Comedy Festival. To all the staff who work so hard, and to the promoters, agents, venue staff, sponsors, volunteers and of course comedians who continue to help make the festival the longest running comedy festival in Europe. We're so looking forward to being back in February 2022 with an incredible programme of over 800 events. We'll also be back in February 2023 when we will be celebrating the 30th anniversary of Leicester Comedy Festival. I'm thrilled to be able to accept this Midlands Comedy Award for Outstanding Achievement."
More information about the awards is available at www.midlandscomedy.org
About Midlands Comedy Awards
The Midlands Comedy Awards were established in 2014 to recognise and celebrate comedy talent in the region. Only comedians and comedy clubs based in the Midlands are eligible for inclusion. The finalists are selected via a secret ballot of the region's comedy promoters. Winners are decided by public vote, with more than 4500 votes being cast this year.
Previously, the definition of The Midlands was accepted to be within the boundaries designated by the EU as "East Midlands" and "West Midlands". However, the awards now accept The Midlands to include the English counties of Cambridgeshire, Derbyshire, Herefordshire, Leicestershire, Lincolnshire, Nottinghamshire, Northamptonshire, Rutland, Shropshire, Staffordshire, Warwickshire, West Midlands and Worcestershire.
NOTE: Due to the Covid-19 pandemic, the awards took a one-year break in 2020.
FULL LIST OF WINNERS

BEST ACT
Winner: Scott Bennett
Second: Stevie Gray
Third: Josh Pugh
BEST MC:
Winner: Jon Pearson
Second: Barry Dodds
Third: Tommy Tomski
BREAKTHROUGH ACT:
Winner: Tal Davies
Second:  Eric Rushton
Third: Kevin Daniel
BEST NEW:
Winner: Ricky Balshaw
Second: Josh Reynolds
Third: Leanne Easthope
ALTERNATIVE:
Winner: Good Kids
Second: The Boys from All Night Chemist
Third: Richard Dadd
BEST LIVE:
Winner: Scott Bennett - Relax
Second: Jon Pearson – What Have You Been Up To?
Third: Richard Dadd – Tea With The Devil
ONLINE
Winner: Jack Kirwan
Second: Scott Bennett
Third: Mary Flanigan
BEST CLUB:
Winner: Hollywood Comedy Club
Second: Glee Club - Birmingham
Third: Funhouse Comedy
BEST SMALL CLUB:
Winner: NCF Comedy
Second: The Holly Bush
Third: RockCentral
BEST OPEN MIC:
Winner: The Holly Bush
Second: Canal House (NCF Comedy)
Third: Kamikaze Club