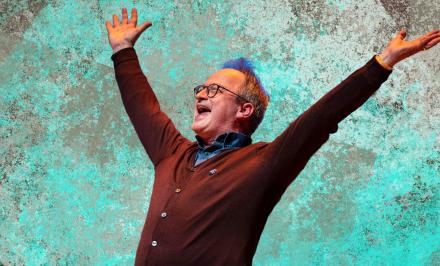 Is Robin Ince the hardest working polymath in showbiz? It certainly seems like it if you follow him on social media where he keeps everyone bang up to date with his various projects. Ince has recently been travelling to pretty much every indie bookshop in the land promoting his latest publication, The Importance of Being Interested. Luckily he has finished that trek just in time to have a quick sleep before starting his annual run of Nine Lessons and Carols for Curious People, this year at King's Place (Dec 10, 11, 17, 18*).
But the big gig for Ince is on December 14 at the Royal Albert Hall when he co-hosts the annual Christmas Compendium of Reason with his Infinite Monkey Cage chum Brian Cox. These shows have been a remarkable coming together of pop culture, comedy, music and science over the years. I will never forget their gig at the Eventim Apollo when astronaut Chris Hadfield introduced surprise guests Duran Duran who then broke into a rendition of, what else?, Planet Earth. The line-up is always kept under wraps, but with previous guests also including Hugh Grant, New Order, Jo Brand, The Cure and Eddie Izzard you can be pretty confident there will be something there to tickle your brain cells. 
*Update - sadly this weekend's gigs on Dec 17, 18 have been postponed, hopefully to be rescheduled in 2022. There will instead be an online event on December 18. Check here for updates about this.
Buy tickets for Brian Cox and Robin Ince's Christmas Compendium of Reason at the Royal Albert Hall on December 14 here.

1. What is the last thing you do before you go onstage (apart from check your flies and/or check your knickers aren't sticking out of your skirt and check for spinach between your teeth)?
I get distracted by a new thought that immediately dislodges the thought that I was quite certain would be where the show would start, then by the time I go on another thought has popped up and I spent the rest of the show trying to rediscover the first thought. 
2. What irritates you?
My overbearing negative critical voice that is quite certain it is right and also overcrowded Sunday morning trains occupied by toxically jovial stage night remnants who decide to sing Chris De Burgh's Lady in Red from Port Talbot to Paddington and I get really irritated when my critical voice starts doing Chris De Burgh medleys when I am trying to sleep.
3. What is the most dangerous thing you have ever done?
I used to stick pins into plug sockets when I was a child and I also used to take apart 12 bore shotgun cartridges. The fact I made it to adulthood is a surprise to everyone. Due to my early chutzpah I have spent the rest of my adult life being obedient to my inner coward. 
4. What is the most stupid thing you have ever done?
I once stole the VHS of the last band that Ricky Gervais fronted playing the Rock Garden - he had a bandana and I think a fake tattoo, but then I decided to put it back because I knew that if i ever managed to get one over on him he would get a terrible terrible revenge and probably kill everyone I knew while squawking like a seagull.
5. What has surprised you the most during your career in comedy?
That the jokes you often think are your best are actually your worst and things that you think are just sentences are sometimes the funniest bits. It is a fascinating thing to me that however long you have been doing comedy your judgement can still be totally off - even someone as great as George Carlin would spend two years working up his HBO special - the words mean nothing until you have delivered them to an audience.