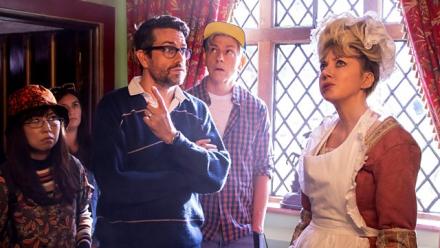 Diane Morgan is set to have another big year with a new series of Philomena Cunk in the pipeline, but it's Mandy that feels like her real passion project – she stars, writes and directs here. And now starting its second series following a very slightly extended Christmas one-off it is really starting to find its feet.
Morgan once again plays Mandy, a frankly feckless woman who can't hold down the simplest of jobs to save her life. In the first episode of the new series she has just lost a previous job after a contretemps with someone who she thought was a Rose West looky likey. Mandy is the sort of dimwit who can mistake a lollipop person for an alien. So now benefits advisor (Tom Basden) sends her off to work at posh Brampton Hall. It can't end well can it? 
But this is not your normal cleaning gig. Mandy has to play a theatrical historical scullery maid while visitors – including one played by Room Next Door star Michael Spicer – wander around and ask inane questions about the beams. These scenes reminded me of Tim Robinson's I Think You Should Leave 'Ghost Tour' sketch, but Morgan makes them very much her own, with a curl of her lip and a questionable attitude.
Things go off at a very unexpected tangent when she has to serve nibbles at a very exclusive masked party – imagine the snobby guests in Squid Game eating cheese balls. The juxtaposition of creepiness and down to earth northern-ness makes for a strong finish – and at 15 minutes per instalment Mandy certainly never outstays her welcome.
Further episodes promise some very special guests - click here for some juicy details of who the programme has in store. They include Deborah Meaden and Charlie Chuck, who appear in episode two which follows straight after episode one. And that's two names I didn't expect to be writing side by side in a TV comedy review in 2022. 
Mandy, Wednesdays from January 5, BBC Two, 10pm. And on catch-up here.