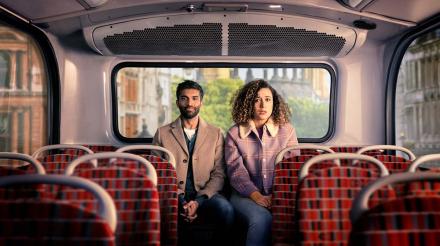 Typical. You wait ages for a series called Starstruck and then two come along in the same week. On Saturday Jason Manford hosts a new ITV entertainment show which has been described as a rebooted Stars In Their Eyes, but first comes Rose Matafeo's winning romcom sitcom – and Matafeo definitely came first, this is the second series.
The new series picks up with Rose (played by Rose Matafeo, who also co-writes with Alice Snedden and Nic Sampson, keep up) deciding not to go back to New Zealand after falling hard for Tom (Nikesh Patel) while not knowing that he is a big film star. And Tom, meanwhile decides not to leave London to make his next movie, much to the annoyance of his comically brittle agent, played by Minnie Driver.
So the scene is set with them both in London working out what to do with the next stage of their life. Rose now knows Tom is a star, while he doesn't care that she scrapes a iiving working in a cinema (it did strike me as odd that she works in a cinema but doesn't recognise Tom, but let's not let these small matters get in the way, pedantry didn't stop Notting Hill from being a hit.
This first episode feels very much like catching up for newcomers, scene-setting for the new series, plus some nice set-pieces such as Rose visibly losing her shit on the South Bank (she's is a very funny physical performer as well as having the best hair in a sitcom since Sharon Horgan) or taking a big banana to a night out at Magic Mike.
Meanwhile Rose also has to deal with her flatmate Kate (played by her former real-life flatmate Emma Sidi) and her slightly wimpy boyfriend Ian (played by Sidi's real-life boyfriend Al Roberts). It's no surprise that there is great chemistry among the cast as – apart from Patel – they all know each other from the comedy circuit.
Starstruck, Mondays, from February 7, BBC Three, 10pm.