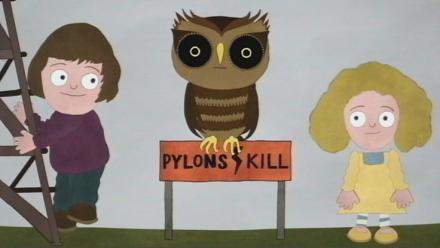 Sadly it's the final episode of the current series of Inside No 9 this Wednesday. After some dazzling guest stars including Diane Morgan and Jessica Hynes it's Reece Shearsmith that takes centre stage as odd young man Ronnie in this chilling episode which has all the hallmarks of an instant Inside classic.
No spoilers although we have seen the episode in advance. This is what the BBC says about it: "Everyone remembers the Wise Owl, of course - the bossy cartoon bird keeping children safe back in the 1970s. Those old information films had a lasting effect on all of us, especially Ronnie, who has spent his entire life trying to do the right thing. But what is right? And what is wrong?"
The episode, directed by Kieron Walsh, also includes Steve Pemberton as neighbour Mr Blenkin and familiar faces Ron Cook (he played Shaun Ryder's dad in 24 Hour Party People) and Georgie Glenn as Ronnie's parents Wilf and Dinah.
The programme includes animations - pictured here – which are so accurate you might well think they are genuine footage from the 1970s. These public information films have always had a sinister edge to them so it doesn't take much to make them feel extra creepy. In fact there is something about Wise Owl that makes even the most banal suburban fixtures and fittings suddenly take on a darker hue. From the avocado bathroom suite to the wallpaper, everything looks normal yet feels anything but normal. Your overriding sense is that there is going to be something horrible happening in this mundane setting.
But is it the best episode in the current series? I've been having a read of a Shearsmith/Pemberton fansite and opinion could not be more divided. For every person that suggests Mr King is the best episode this series there is someone who thinks it is the worst. A lot of people rate last week's A Random Act of Kindness. Others didn't quite get it.
Some fans think the series – the seventh – has gone downhill this time round.Others think it is the best series yet. It really does seem to have divided people. All I can suggest is that whatever you think of the series so far you should watch this episode. Though it probably means you'll be sleeping with the light on tonight.
Inside No 9, Wise Owl, Wednesday. June 1, 10pm, BBC Two. Watch on catch-up after broadcast here.