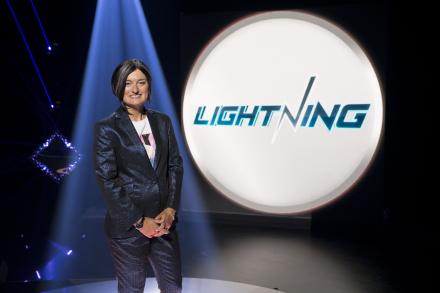 Zoe Lyons has revealed that her quiz show Lightning will not be returning to BBC Two.
She posted the news on Instagram along with a picture of the shiny suit she wears in the show.
"Sadly all good quizes must come to an end but I can't tell you what a joy it was to work on @lightningquiz for @bbc2. We made 2 cracking series and I loved every second of working with my pals at BBC Belfast. Every single contestant was a star. Thanks for all your lovely messages and you can still catch up on @bbciplayer
https://www.bbc.co.uk/iplayer/episode/m0015gn7/lightning-series-2-episode-2
Stay out of the Light and you'll be alright!! "
The early evening quiz mixed the traditional quiz show collide with gameshow, in a fast-paced and frantic format designed to leave contestants' nerves in tatters.
Six challengers battled it out across six adrenaline-pumping rounds while a ruthless spotlight patrolled the studio eliminating contestants.
The challengers' motivation was simple: do whatever it takes to stay out of the light to win the prize money.
Zoe Lyons said: "It's incredibly exciting to be the host of Lightning. It's a dream job for me as I'm a massive quiz fan and - unlike the contestants - I love being in the spotlight."
Zoe Lyons Picture: BBC/Niceone/Fizz