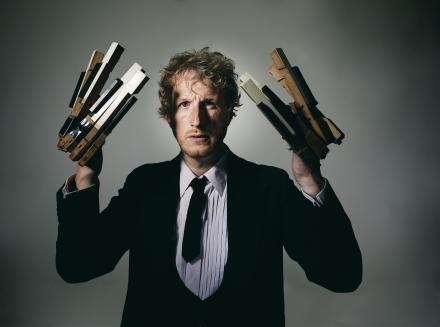 Edinburgh-based piano virtuoso Will Pickvance combines music and storytelling in the beautiful surroundings of a George Square spiegeltent in his new show Half Man Half Piano.
Pickvance has been hailed as a captivating, original and funny performer, with shows that explore his deep and complex connection with his chosen instrument.  Drawn to the absurd and the ridiculous he is happy to explore and send up his own artistic temperament and eccentricities.
His influences range from Brahms and Bach, to Gilbert and Sullivan, the Beatles, Keith Jarrett and Thelonious Monk and his own original compositions reflect this wide and eclectic musical mix.
Pickvance enjoys words, stories and character as much as he does music and his shows are bristling with musical anecdotes and emotional insight.   His shows are an upbeat celebration of life and music, with a unique and magical atmosphere of their own. 
Music and storytelling combine in beautiful harmony in shows which have earned him a devoted Fringe following.
Will Pickvance: Half Man Half Piano, Assembly George Square – Piccolo (Venue 3), 3rd to 28th August 2022 (not 10th, 17th, 24th), 7.25pm (8.25pm). Buy tickets here.
What is the last thing you do before you go onstage (apart from check your flies and/or check your knickers aren't sticking out of your skirt and check for spinach between your teeth)
Check for spinach on my flies
What irritates you?  
Being asked if I can tune a piano
What is the most dangerous thing you have ever done?
Attempt to tune a piano
What is the most stupid thing you have ever done? 
Attempt to tune a piano
What has surprised you the most during your career in comedy?
Being mistaken for a comedian
Interview with Will Pickvance continues here
Will Pickvance Picture: Peter Dibdin